City of ghosts – Hue – Viet Nam
There are lots of famous tourist landscapes in Hue city such as the royal Citadel, holy pagodas, Perfume river, temples and royal tombs. But the most impressive place is "City of ghosts"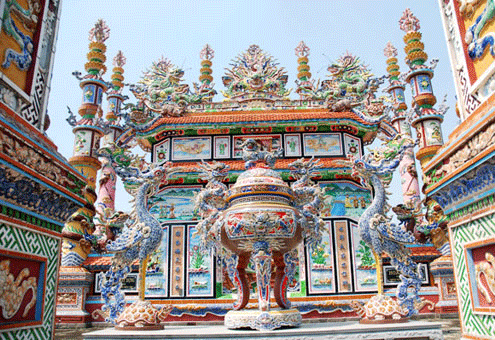 City of ghosts location
"City of ghosts" lies in An Bang, a quiet village near Thuan An Beach. This local cemetery, with its brilliantly colored structures built on white sand, stretches along the side of the road for 3 kilometers. The locals call it "City of Ghosts".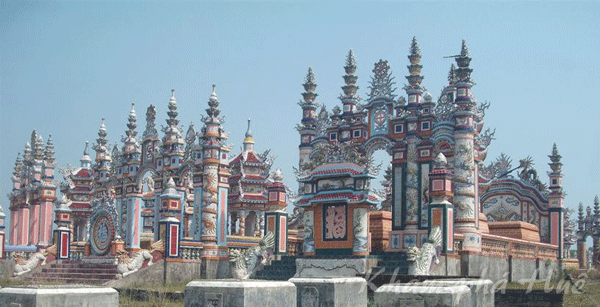 "City of ghosts" always makes tourist shock by regal stone lions abound and glittering mosaic dragons which adorn the roof-ridges. It is also the mixture of different architectures such as Buddhism, Taoism, Catholicism, Vietnamese, Chinese and Western. Even many tombs there are the copies of  Nguyen Kings' tombs and Hue royal citadel.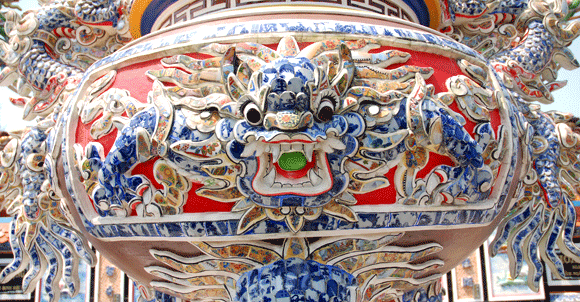 90 percent of the villagers have overseas relatives, who send money home, much of which is used to build tombs. Especially, due to the competition in construction of the villagers, there are a lot of luxury tombs costing fifty thousand US dollars for their ancestors or even for family members who have not died yet.
The idea to turn An Bang cemetery into a tourist site was suggested by several researchers of Hue culture several years ago. People are very curious about this special city so there are more and more tourists coming here to visit the City of ghosts.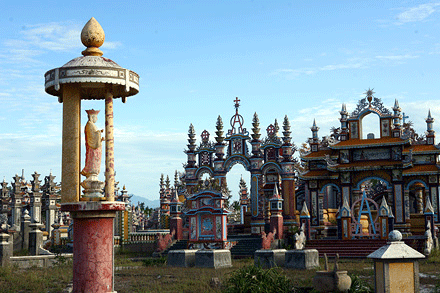 How to visit City of ghosts
"City of ghosts" is about 40 km from Hue city. It lies in An Bang village, Vinh An commune, Phu Vang district. One of the best way to visit this special city is by a motorbike tour or by private car from Hue to Hoi An. With this tour, visitors can also visit Thanh Toan bridge, Tam Giang lagoon, Elephant springs, Hai Van pass and Marble mountains