Dong Ba market
To Vietnamese, markets are considered a beloved place, showing all most the culture characters of a local area. For this reason, it will be regret if you visit Hue without coming Hue market, especially Dong Ba market. Therefore, if you get a Hue city tour, do not hesitate to call at this place.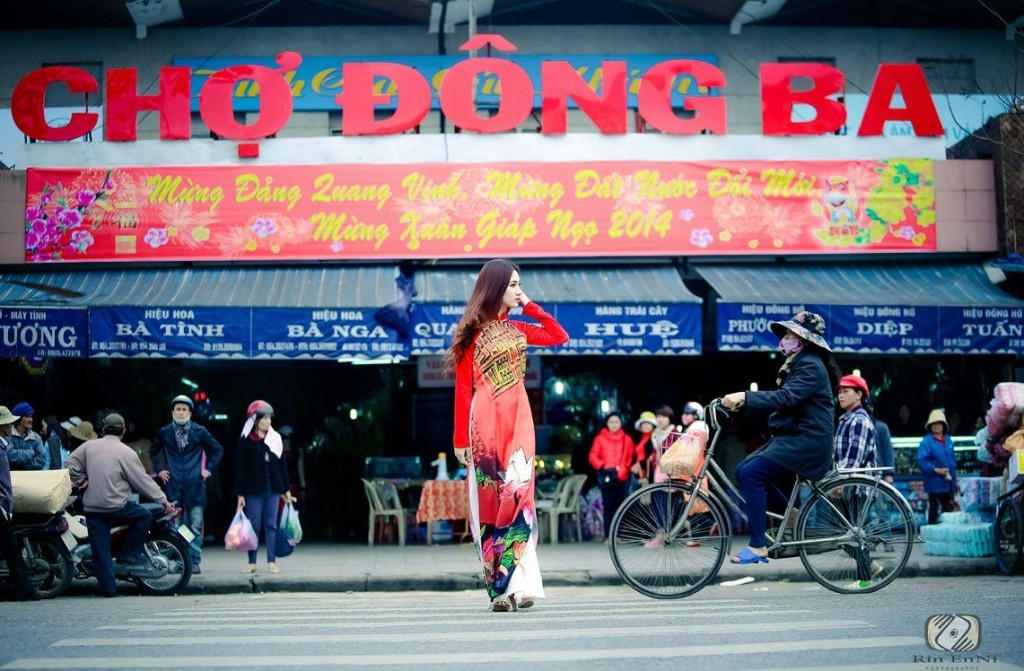 Dong Ba market is the biggest and busiest trading center, located in the Tran Hung Dao Street, Phu Hoa Ward, Hue city, 100 m from Truong Tien Bridge and along with a north bank of the Perfume river. With this such an advantage location, it is easy for you to combine visiting Dong Ba market and Perfumer river tour or you can use Hue private car to go here.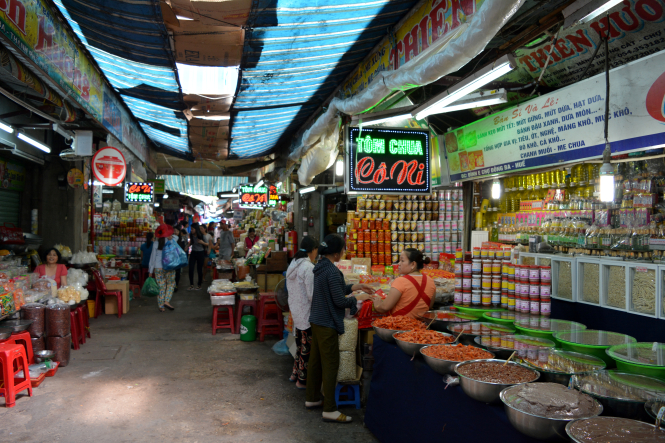 Compared to other Hue markets,  Dong Ba is not only a trading place. Coming here, you can have a chance to know more about culture and history of Hue. With an area of 5.000m2, including a three- floor building, Dong Ba market promises to be a perfect place for you to explore.
Cuisine area of Dong Ba market
Dong Ba market has a particular area for cuisine. In here, there are diverse and abundant kinds of foods. You can find any food you want from common dishes to specialties such as Hue mussel rice, Sweet gruel, Rice dumpling cake, Bloating Fern-shaped cake or Thick noodle soup and so on with the price from 10,000 – 30,000 VND.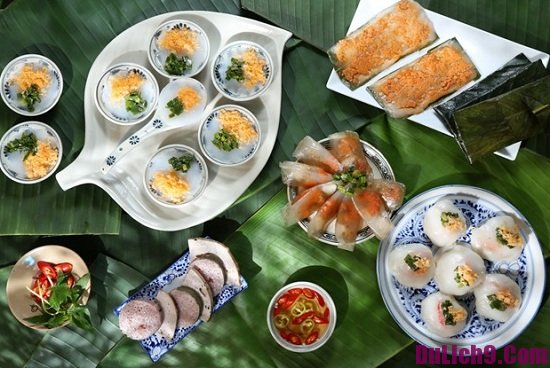 It is said Dong Ba market gathers all of Hue specialties that you can not see in other Hue markets. We can mention Thien Huong sesame gum, Hue rice beef noodle, fermented shrimp and so on. For these, you can not only enjoy in the market but also buy as a gift for your friends, family with price from 40,000 to 200,000 VND. The best way to enjoy them is Hue food tour by night or Hue cooking class
Handicrafts area in Dong Ba market
Vietnamese handicrafts are very delicate and ingenious, so this is handicrafts opportunity for you to get them as a keepsake for yourself or friends and family. Located on the first floor, handicrafts area will satisfy you with colorful and eye-catching products in your first sight. In here, there are many kinds of product such as Vietnamese hat, jewelry, souvenir and so on.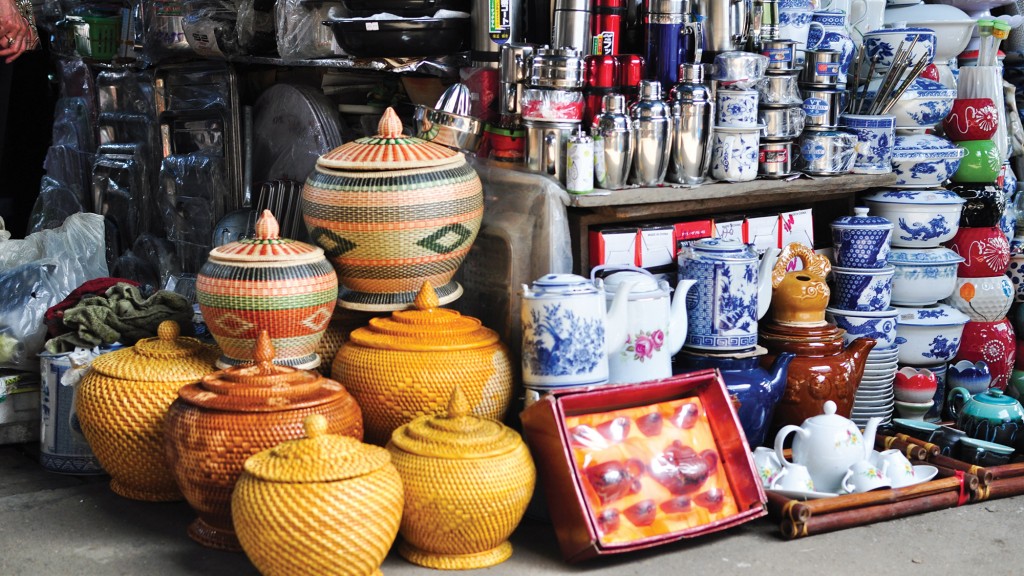 Clothing area.
In this area, there are all of necessary such as footwears, hats, crafts, clothes and so on, so you can find anything you need in this Hue market. Besides, Dong Ba market is also a fantastic place contemplate colorful Ao dai– Vietnamese traditional clothing, both for children and adults.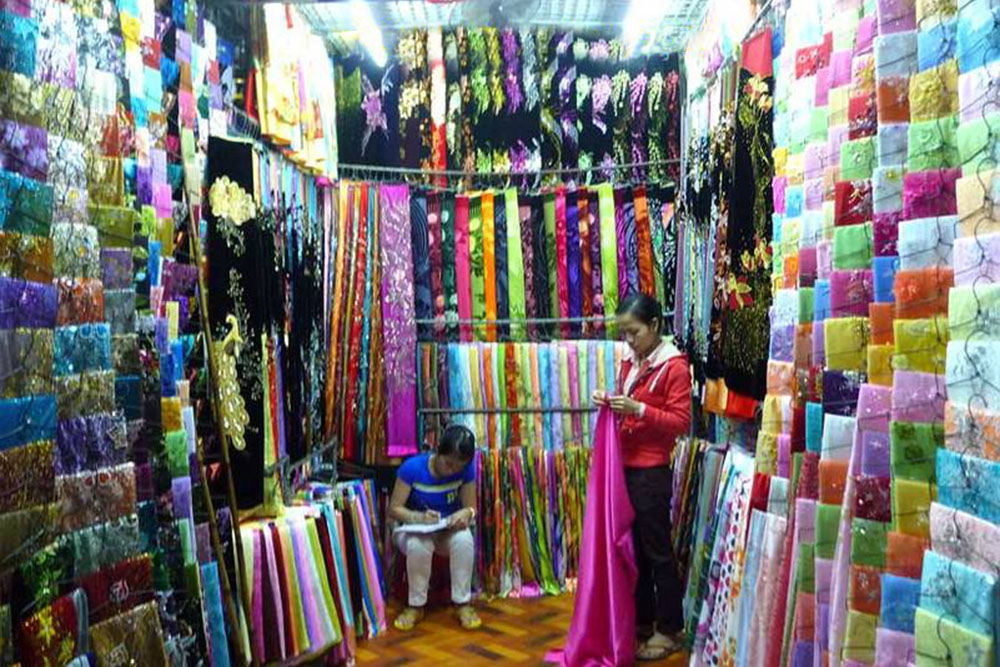 I also recommend that you should call at Ao Dai material kiosks with full of type and kind of fabric which is beautifully. You may get a charming one to have sewed an Ao Dai for yourself.
Besides above information, Dong Ba market also has many things waiting for you to explore. Now! What are you waiting for ? Let's start !