TOP 5 THINGS TO DO IN HUE CITY – HIDDEN LAND TRAVEL
Hue, the old imperial city, is situated in the central VietNam. Complex of Hue Monuments stretches along the Perfume River and some close areas of Thua Thien Hue Province. When talking about Hue, we cannot help mentioning Hue street food, royal music, festival. Especially, coming with The hidden Hue City tour full day, you will have chance to visit lots of famous places, experience life, and discover traditions and culture.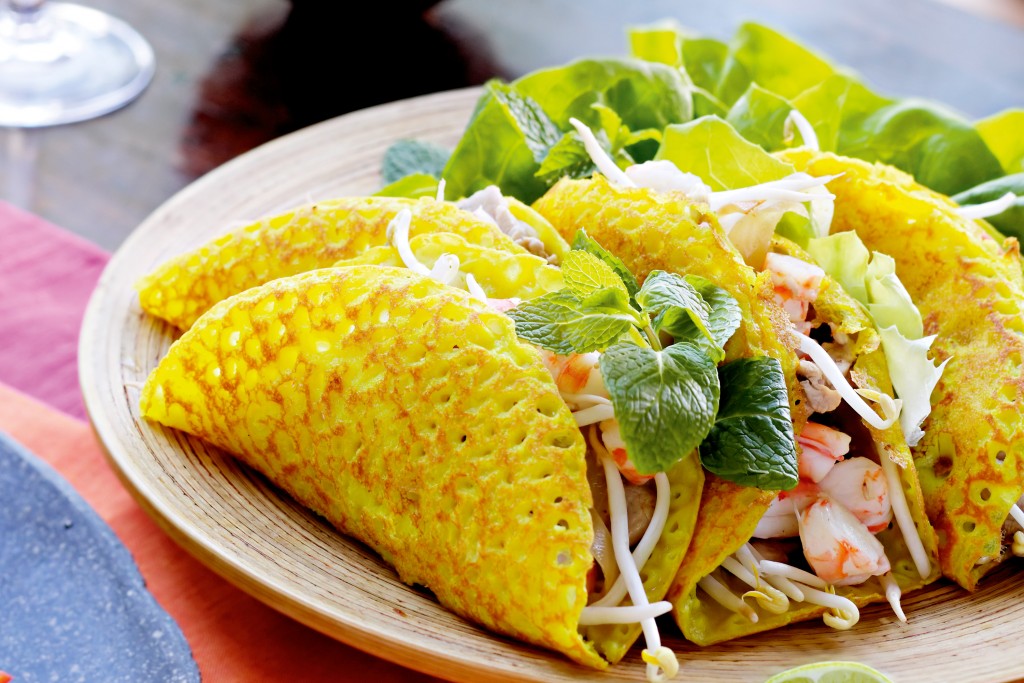 Let's go to the beach!
The beach is a great escape from the busy life in city. Thuan An,  one of Central Vietnam's most beautiful beaches, is about 12 kilometres from the center of Hue city. It is the masterpieces of  Hue which attracts lots of tourists all over the world. Unlike the adjacent beaches of Centre, the climate and topography form Thuan An marvellous beach.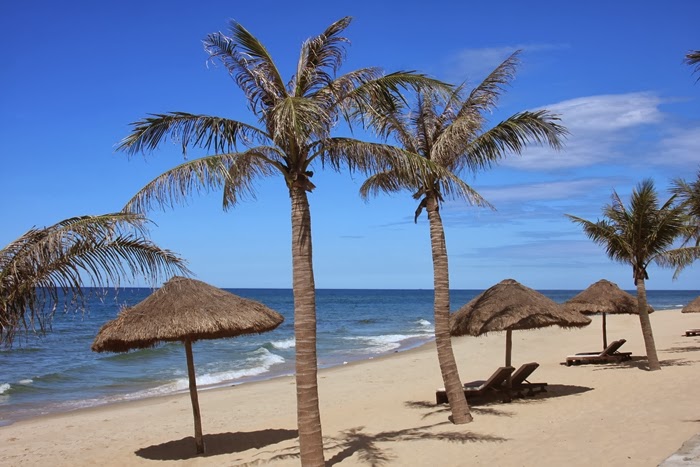 You can both sunbathe under the sunshine and relax with a book in hand. You should spend time at Hue beach bar with airy space and very good services. Besides enjoying the magnificence of Thuan An beach, you can put tents and stay overnight on the beach or have barbecue parties with fresh seafoods. At night, you can listen to the wave sound or take a walk along the beach. If you visit Hue city and do not see Thuan An beach, it will be a great mistake.
Enjoy local dishes in Hue city
Hue can be regarded as the paradise of food lovers. On visiting Hue food tour by night you have chance to discover its cuisine and try the local street food.  So what is the first thing you should eat in Hue? You should try Hue beef noodles, one of the most famous foods of  Hue with shrimp paste, beef shank, chunks of oxtail and knuckles, differents spices such as lemon grass, chili, pepper.
As the result, it creates the Hue special taste being different from that of Hoi an ancient town or Da Nang city. The next is Rice with mussel (Com hen). It is a very unique cuisine in Hue including rice, boiled mussel, star fruit, fish sauce, cabbage, onion, pepper, peanut, chili, and a variety of herbs. In addition, Hue city is also well-known like Nem lui Hue, banh xeo, banh khoai, banh loc, banh uot thit quay, banh beo,,,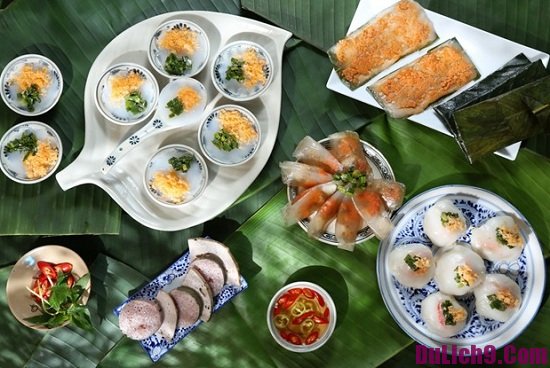 Hue foods
Have you tried Hue food? What's your favorite dish from this region?
Visit famous architectures in Hue city
With Hue city tour, you will visit  miraculous citadel, fabulous palaces, and royal tombs. Firstly, built  in 1805 in the reign of King Gia Long,  citadel is a giant complex having 520ha in area. It consists of three ramparts: Hue Capital Citadel, Royal Citadel and Forbidden Citadel. It is said that this construction not only looked up to equilibrium principle  between Yin and Yang (male and female)  but also the balance between left and right.
This purpose was to guarantee the continuity of the dynasty. If you have interest in history, it will be an ideal place to discover. Besides the Imperial Citadel, you can not miss chance to see tombs of  Nguyen emperors such as Gia Long tomb,Tu Duc tomb, Khai Dinh tomb, Minh Mang tomb. Each has their own beauty and mystery. In order to have lots of options, you should consult Hue private car.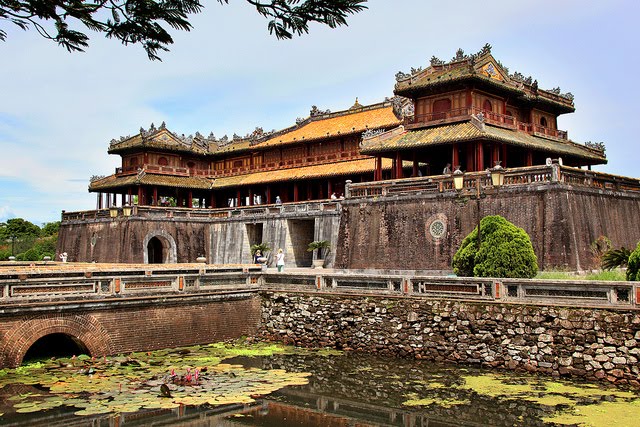 Hue citadel
Boating along Perfume River
Perfume River is a famous poetic river in City of Hue. Boating along the Perfume river is the best way to enjoy the poetic landscapes, green villages with the mixture of flowers, grass, trees . Then particularly listen to Hue royal music. Perfume River Tour will bring you a fantastic feeling to get closer the nature and peaceful life.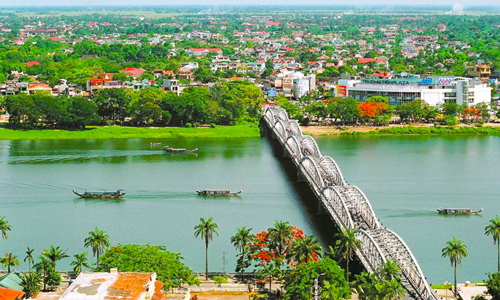 Perfume river
Admiring Hue city by night
City of Hue becomes more lively and colorful at night: from the Truong Tien bridge to the colors of lights on the street. You will have chance to buy clothes or souvenirs with very affordable price at the Hue Night Market. Let's stand by Hue food tour to experience more City of  Hue's nightlife. Walking under Flag Tower or setting your soul free on Perfume river with the sweet tune of festival songs is very wonderful.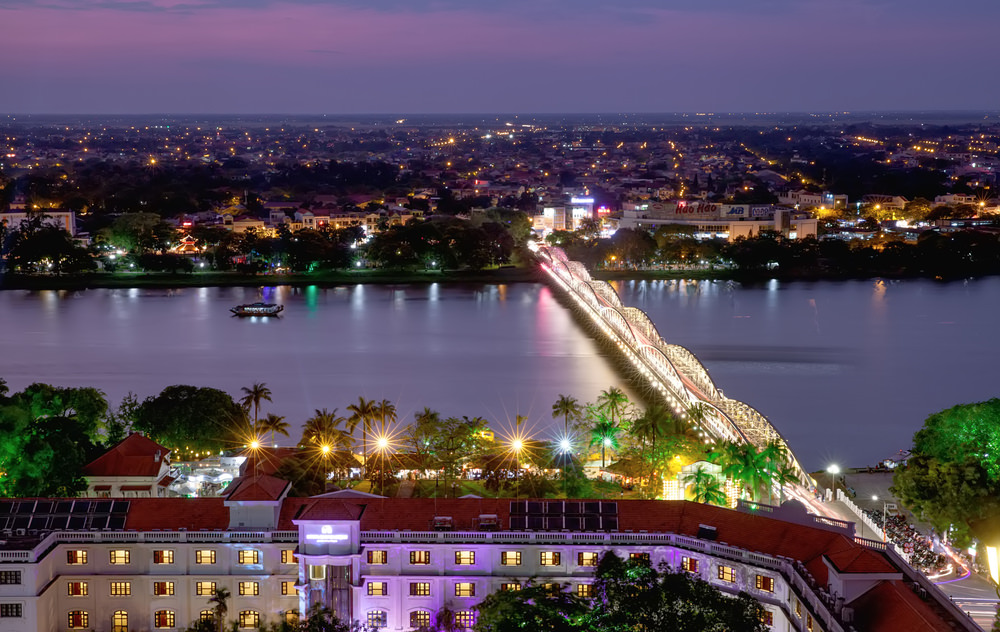 Hue nightlife