Perfume River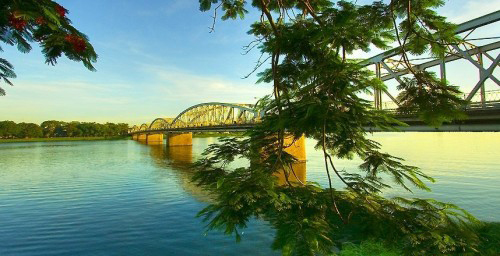 Perfume River has long been a symbol of Hue ancient capital. It plays an important role in fang shun architecture as well as local people's lives. Especially, the river is an inexhaustible topic for poet writers and photographers.
Why is it called Perfume River?

Perfume ( Sông Hương) is a name of a river that crosses the last capital city of Vietnam, Hue. The river has such a beautiful name like a pretty girl because of the pure fragrant and wild sweet bushes grown in upstream river. It flows through many forests of aromatic plants before reaching Hue, bringing with it a pure and fresh aroma.

Source and flow of the Perfume river
Perfume is around 80 kilometers long, and owes its name to the fact that The Perfume River has two branches, both of which begin in the Truong Son Mountain range and meet at Bang Lang Fork.
The river flows in south-north direction passing Gia Long tomb, Minh Mang tombs, Hon Chen temple and Vong Canh Hill. It turns north-west, meandering through the Thuy Bieu plains. From this, the River then continuously flow in the north-east direction to Hue city and passes Thien Mu pagoda, Royal palace, Dong Ba market and Hue city. The green river continues its itinerary, passing Hen Islet and various villages, crossing the Tien non and Sinh village before emptying into the Tam Giang Lagoon.
How to enjoy the beauty of Perfume River
The best place to view the Perfume river is on Thien Mu pagoda or dragon boat.  The river is usually the highlight for Hue city tour. Normally, visitors can enjoy the sunset view of the river from Thien Mu pagoda to Dong Ba market on a dragon boat. Another choice is admire Hue city at night while listen to traditional music and flow lanterns on double dragon boat by Hue food tour by night tour.  Perfume river tour is for people who love to discover Hue traditional villages such as wood painting village, paper flower making village and kite making workshop