Hue walking street – A new destination, never miss when visit Hue
From so long, Hue-the ancient city has been always become one of the most attractive destinations in Viet Nam with beautiful landscapes and world heritages. However, the tourism potential in Hue has not been properly exploited. With the effort to bring to Hue a strategic change and diversify the tourism development, Hue walking street is approved and will be operated in the end of September, 2017. This project with an aim to give visitors a place for walking, shopping, entertaining and resting. Promisingly an important change for the development of Hue tourism.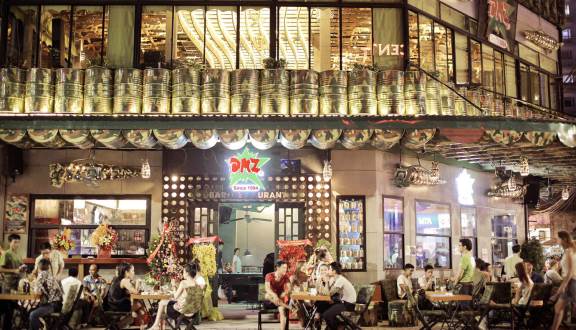 Location of Hue walking street
Beside Hue old walking street lies along Hue Perfume river, Hue new walking street is located in the central of Hue city including 3 streets: Vo Thi Sau, Chu Van An and Pham Ngu Lao, nearby Perfume river.These three streets have been called as "Pho Tay" by locals because of the great number of foreigners live in the area. Because of the convenient location, these three streets have been covering with crowed people and tourism services.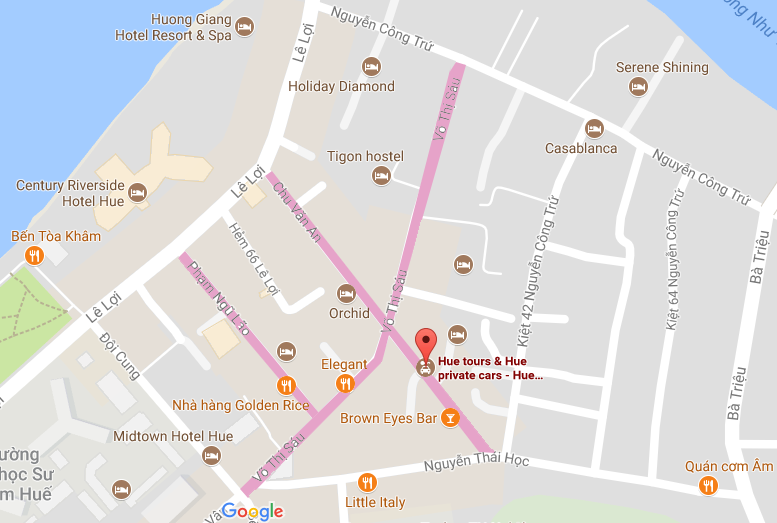 Time of Hue walking street.
From the first day of operation, Hue walking street will be hold in Pham Ngu Lao, Chu Van An and Vo This Sau street.In accordance with the project, on Friday, Saturday and Sunday nights, all means of transportation are banned for parking will be not allowed to pass through these streets.Walking streets will be held from 18:00 pm to 2am the next morning.
Hue walking street, worthy a must-do-place for visitors
An ideal place for walking and shopping.
If visitors ever come to Hue, the very first thing to do to feel the peace and of life here is by walking around. Banning vehicles not to pass through the streets makes tourist more comfortable and safe to enjoy the times. Moreover, Hue walking street will be selling many pretty local souvenirs such as wooden Hue cyclo , Buddha rosary, Hue's landscape paintings and so on, or even the tourism products can be found here. Moreover,visitors can also take some tourism services such as Hue motorbike rental or Hue private cars which are available in Hidden Land Travel office . It's obvious convenient for whom are taking other plans when traveling.

Various types of entertainments.
For those who are still young and free, wishing to hang out with friends, taking a can of beer and shooting the breeze, dancing overnight and playing games and so on, Hue walking streetwill not let you down.
With many bars, coffee shops along the streets, it's easy for visitors to join in such an exited atmosphere around. Also, if you love playing billiards, having some funs with friends in billiards shop is not a bad choice.
If you love arts and need peaceful atmosphere, some places in the three- way crossroads there will be a group of street performers catering to visitors.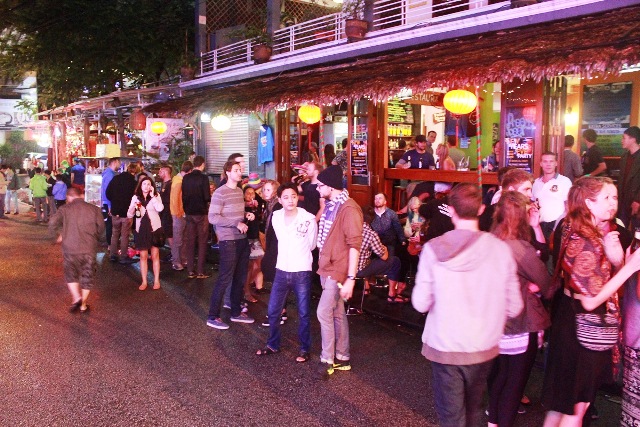 Place for relaxing and enjoying foods.
Along the 3 streets, visitors can easily find out a good place for staying, spas because of the great numbers of types of hotels, hostels. With the main of people around can speak at least basic English, visitors will find it as convenient as possible using the services here.
In addition, these streets will have stops on the sidewalk for tourists and residents enjoying  popular snacks, local foods which are ensured food safety. In the other hand, BBQ restaurants  willingly provide you the famous foods which comes from other countries.

Hue walking street, obviously be a necessary supplement of travel by nights products in Hue city, also be a tourist highlights for the downtown area. Not to mention, the walking streets will be supported and soon become a famous destination not only in Hue but also Viet Nam. Hopefully, This project will soon be a wind of change towards Hue's tourism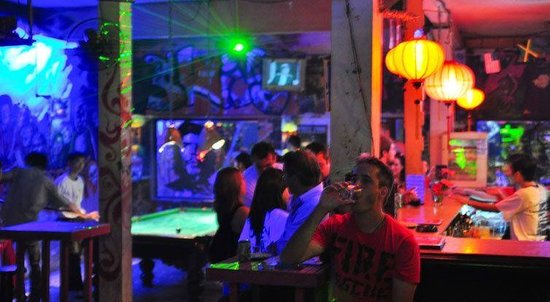 Brown eyes bar
Things to note when visit Hue walking street
Return the motorbike rental by 6.pm at three weekend days: Friday, Saturday and Sunday. In case, you get the walking street after 6.pm, you can keep the bike at parking.
If your hotel or restaurant is in the walking town, arrange your tour or private car to return by 6.pm
What about toilet? You can use restroom in any buildings that have the sign below: