MARBLE MOUNTAIN, THE CHARMING MASTERPIECE OF NATURE
Exploring Da Nang if you miss Marble Mountain, it is a big regret. Undoubtedly, from the high places such as Hai Van pass, Ba Na Hill, Marble Mountain looks like a "the gigantic natural rockery" stand out at the heart of the city, a precious gift of the Creator giving to Da Nang Vietnam. Besides, Marble Mountain becomes a fascinated stopover of Hoi  An to Hue motorbike tour
Ngu Hanh Son, Marble Mountain, a cluster of five marble and limestone mountains which are the name of 5 elements of oriental philosophy (metal, wood, water, fire and earth). Furthermore, it is a fairy land with the system of caves, ancient Buddhist temples and traditional villages.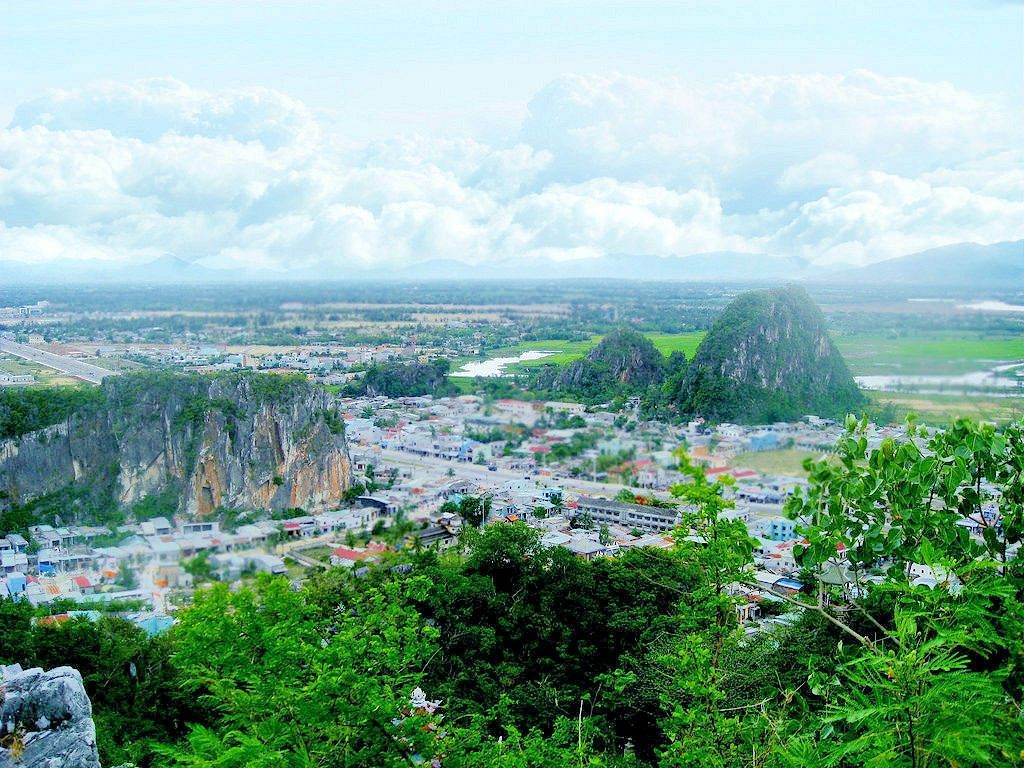 Marble Mountain- Da Nang
Location of Marble Mountain
Lying about 8 km to the southeast of Da Nang city center knobs on the spacious coastal sand, right on the street from My Khe beach to Hoi An. Marble Mountain is located on the yellow sand bank between old city of Hue  and Hoi An old town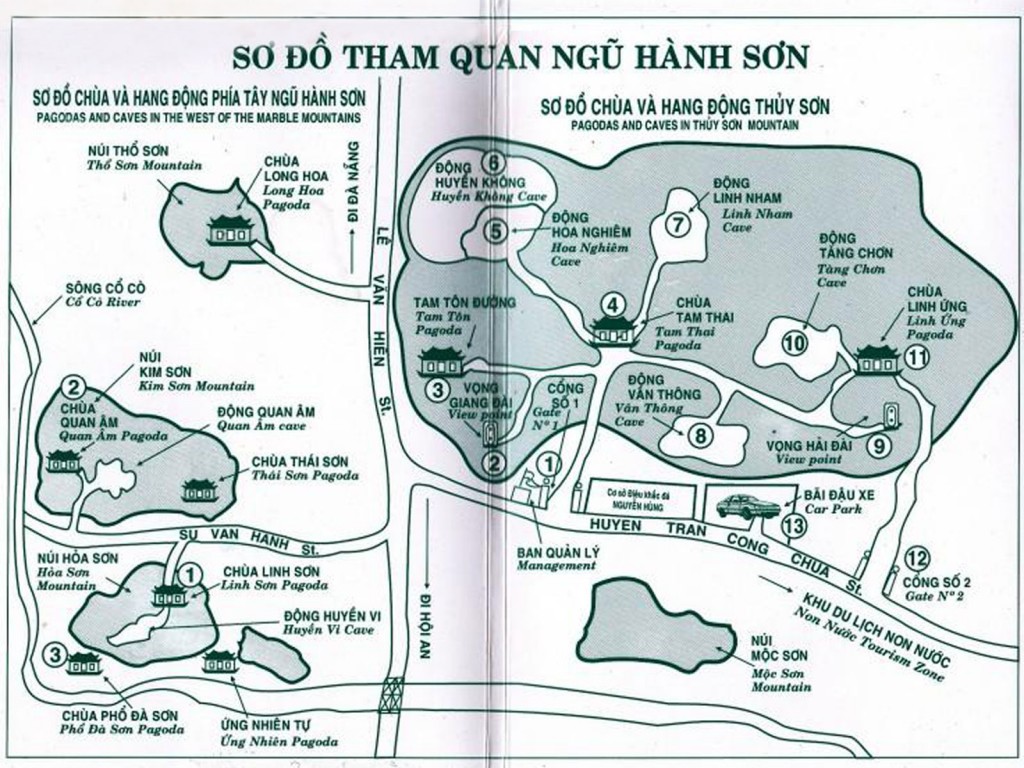 Map of Marble Mountain
What to see in marble mountains
There are a plenty of things to see like a mysteriously complicated system of caves and tunnels. In the past, they were used as hidden places and crucial backs for the Vietnam revolutionaries.
Thuy Son and Vong Giang
Thuy Mountain is the largest, highest mountain and the most beautiful one as the popular tourist resort because of its heart-touching beauty. It is 106 m of the height, about 15ha with 3 peaks namely Thuong Thai, Trung Thai and Ha Thai like 3 stars so-called Tam Thai. Also, this mountain has many caves and Buddhist temples ( Linh Ung pagoda, Tam Thai pagoda), dating back to the 17th century.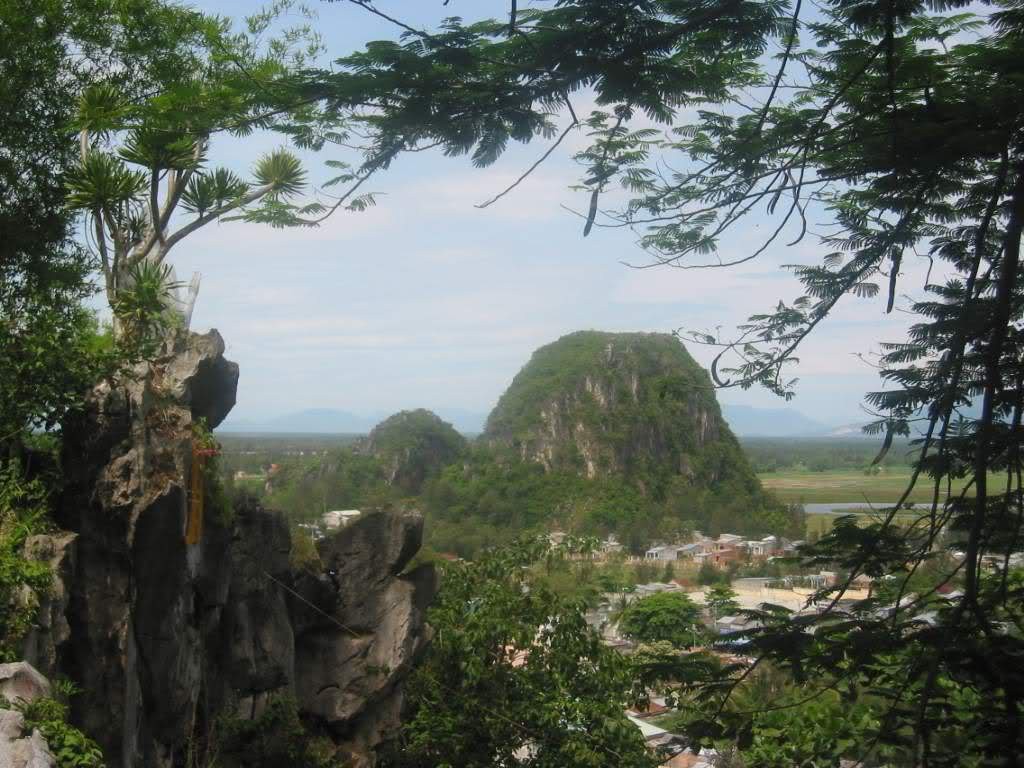 Thuy Mountain
Climbing up about 150 stone steps from the foot of Thuy Son, one will reach the most amazing viewpoint spot: the Riverview Tower or Vong Giang Tower. The tower reveals a breathtaking and stunning view to Kim Son or the mountain of metal, Truong Giang and Cam Le rivers and beautiful coastal ahead.
Thuy mountain  (water mountain) together with monkey mountain make an amazing motorbike tour from Hoi An  
Am Phu Cave – the cave of hell
With unique architecture of the Creator, Am Phu Cave is the longest and most mysterious cave in the system caves of Marble Mountains. At the tops of Thuy mountain has an ultra-mysterious and murky caves due to its name – Am Phu cave. Crossing Nai Ha Bridge, visitors will get sunk into a new chapter of underworld, where the transition from the Earth to the Hell.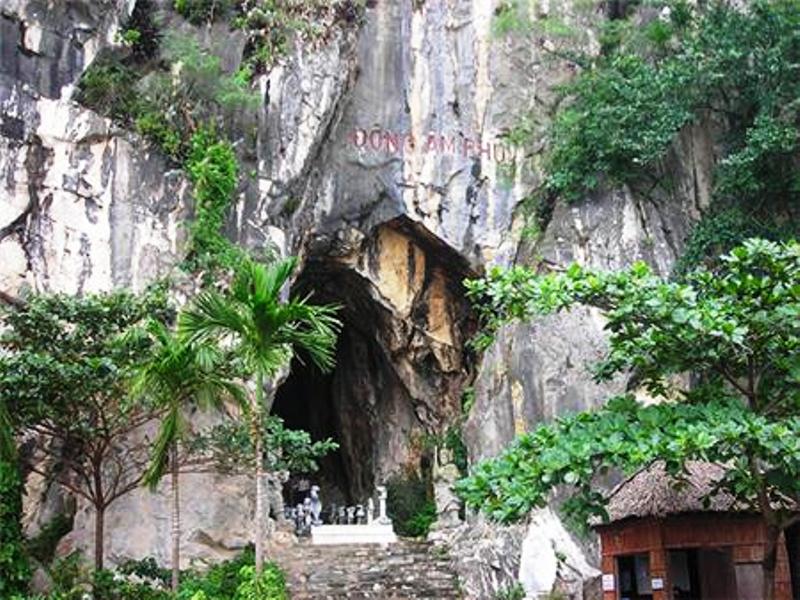 The sculptures in Am Phu Cave- Marble Mountain
Strangely, although this is a natural cave, having a lot of nooks and alleys go deeply inside of the layers. So, visitors always imagine many doors to the hell. Guests here can see Dai Anh Linh, Phan Quy palace, Ming Vuong palace, Avici Hell, Giai Oan springs and so on.
Non Nuoc Stone Carving Village
Perhaps no one set foot on Marble Mountains without also to the Non Nuoc Stone Sculpture Village, where the cosmetic and foreign famous marble handicrafts and sculptures are made.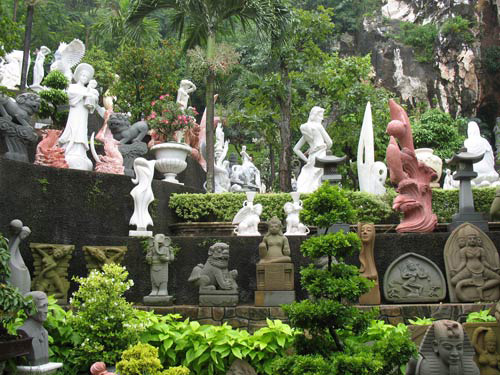 Non Nuoc Village
Here you can admire and buy many things as souvenirs made of marble stone, from small one like earrings, necklaces, vases to the huge sculptures of Buddha.
Huyen Khong Cave
One of the biggest caves on the top of the Water Mountain is Huyen Khong cave. It is the most awesome, peculiar one with the great value of spirit and historical value.
The shape of this cave like an up-side down bell, its' ceiling is revealed outer space, and the sunlight filter through from the five holes to the bottom. Accidentally, these create mysterious and cathedral atmosphere.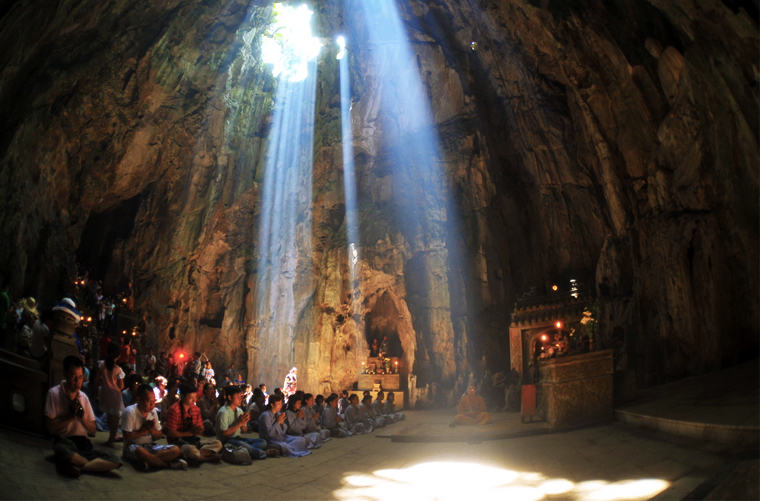 Huyen Khong Cave- Marble Mountain
On sunny days, the cave is regarded as a natural air conditioner because of cooling fresh air from this place. This feature also makes Huyen Khong different with other caves in Ha Long bay or Phong Nha Ke Bang. Because there, most caves are largely sealed, moisture, and used electricity system.
Especially, during the war the Marble Mountain contained a hospital for the Vietcong, probably within earshot of the American air field and My Khe beach in Huyen khong cave.
How to visit Marble mountain
Tourists have a plenty of choices to get to the mountain. The mountain is an ideal spot for  Hue to Hoi An by private car or Hue to Hoi An motorbike tour.