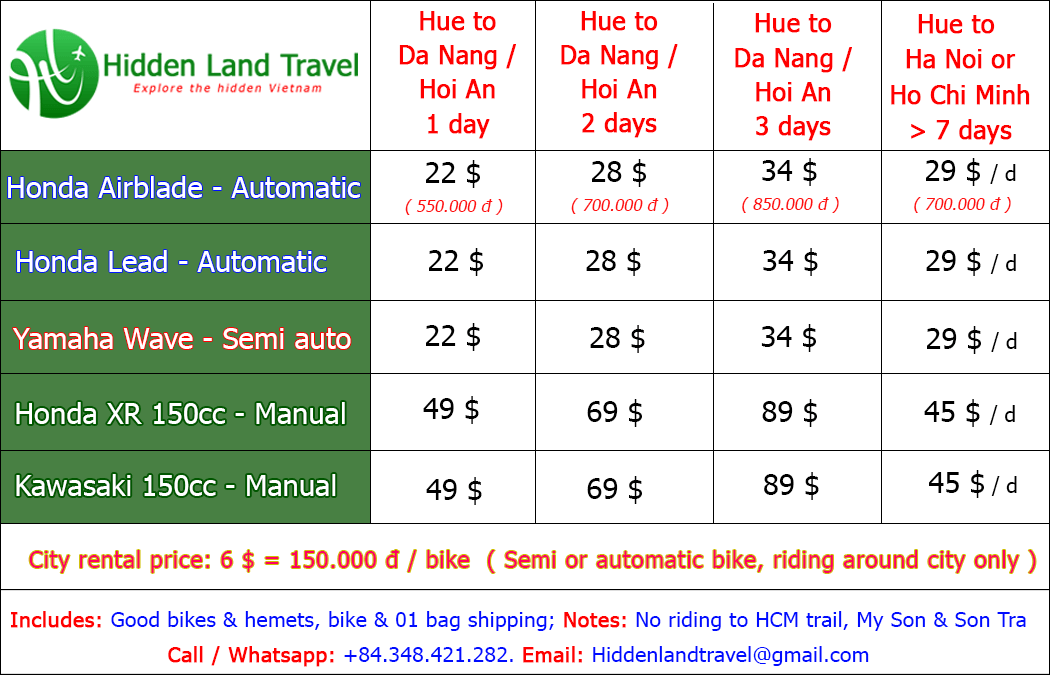 Rent motorbike from Hue to Hoi An pricelist
How to rent a motorbike from Hue to Hoi An
Step o1: our whatsapp number is: +84348421282
To book the bike please fill in the booking form or provides us below information via whatsapp
Your name and ways to contact you.
Type and number of bike you want to hire
When and where you would like to pick up the bike
Where and when you would like to return the bike.
Step 2: After informing and confirming you about the bike and price
We will bring the bike to your hotel, after instructing about the bikes and helmets, we will do paper works together.
We also instruct you about the route stops and drop off address in Hoi An
Your bags  will be sent to our address in Hoi An where you drop the bike and get them back
Related service: Hoi An to Hue motorbike rental
Hue motorbike rental include and exclude  ?
Where to ride to with hire a motorbike from Hue to Hoi An ?
Type of bikes information
Things to note when doing Hue motorbike rental
Normal cost for Hue motorbike rental
Includes:
Good condition motorbikes, hemets and side racks
Free sending 1 luggage to our office in Hoi An (extra 40.000 usd for the next one)
Good condition motorbike and helmets.
Having detailed contract and instruction in English
Recommend route map: Hue to Da Nang and Hoi An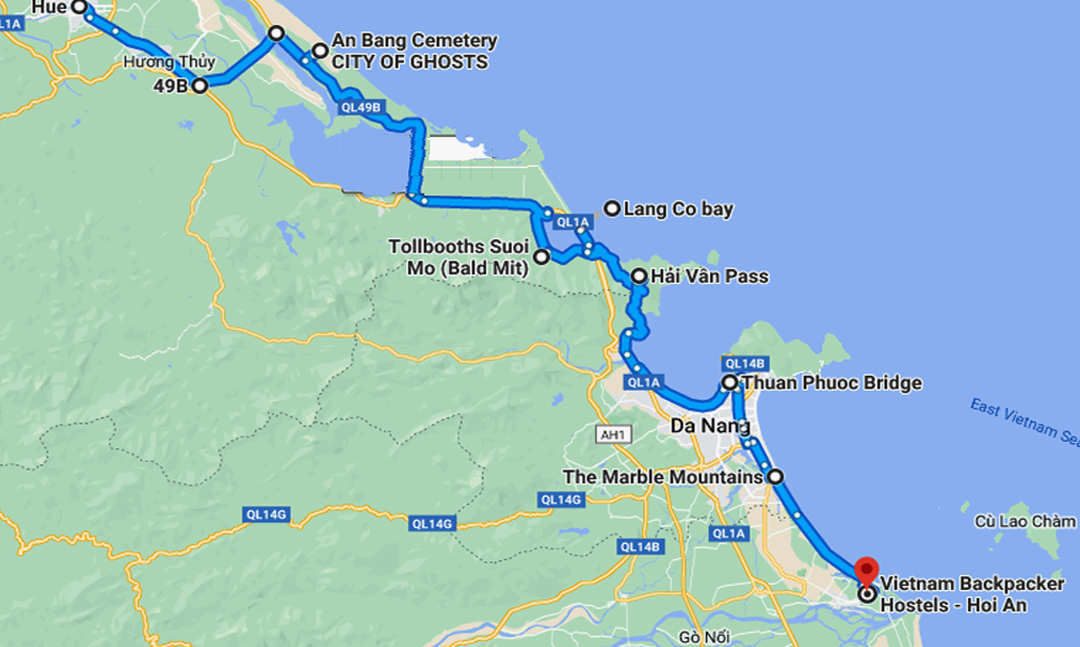 Thanh Toan rural village: This is an ideal places that you can learn about traditional vietnam farming culture. At here, you can visit the local market where there are lots of fresh shrimp, fish and vegetables. In addition, you can also admire the ancient bridge where the locals come to worship, talk and relax. Last, you will be able to see the rice fields with flood milestones
City of ghost: This is a cemetery located deep in an An Bang village. You will be overwhelmed by thousands of stunning and splendid tombs.
Lap An lagoon: Lap An lagoon is located at the foot of Hai Van pass. It is surrounded by majestic mountains and Lang Co town. Here, you can not only admire the beautiful scenery but also learn how the local people raise oysters
Mo waterfall: This is a natural waterfall where you can swim. You have to pay for entrance fees and space to change cloth and leave your bags
Lang Co bay: The bay is considered as one of the most beautiful beach in the world. At here, you can enjoy local seafoods and amazing view of the ocean and pass
Hai Van pass: Hai Van Pass is one of the most beautiful passes in Vietnam. This pass is the boundary between Da Nang and Hue, one side is the sea and the other is high mountains.
Dragon bridge: This is the symbol of Da Nang city where you can walk up and have some photos
Marble mountain: You can take 200 steps up or Lift up the mountain. On the mountain, you can visit old temple and caves
Hoi An: Drop off the bike
Automatic Honda Airblade are the easiest scooter for those who love to ride but didnot have much experience. This bike is not only easy to drive, but also quite powerful in any roads. Moreover, you will have an amazing trip with an extremely reasonable price when choosing this bike.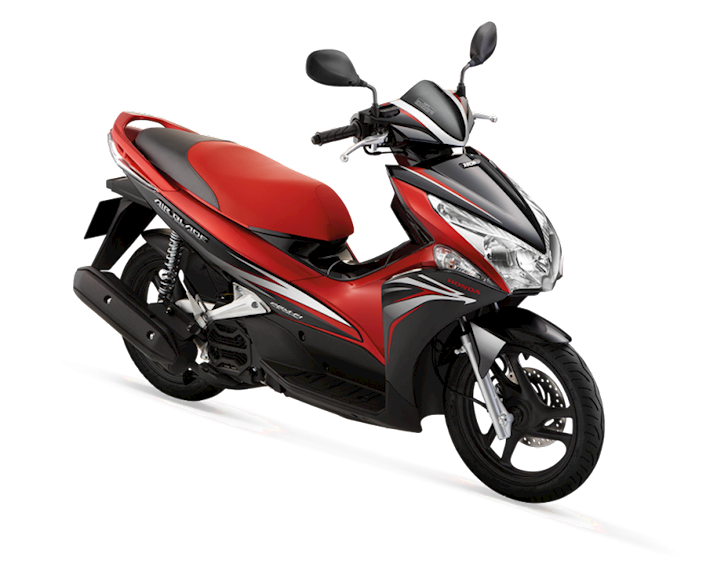 Semi-automatic Honda Wave are the one of the stable most popular bikes for an unforgettable adventure. The semi bikes are rarely got any troubles. However, you also need to change the gear regularly especially riding on the mountain

Manual motorbikes Honda XR is an ideal choice for an adventure in safety. The price is not too cheap but they are powerful for any mountainous road and fit for every people.  They are the perfect motorbikes for every type of road, size of person and travel purpose. You will have an awesome time in Viet Nam on these bikes.

1. You can use the Bike's horn whenever you feel unsafe
2. Be careful with animals along the roads, don't go faster to avoid them
3. Do not ride by side or too close to other vihicles, must keep distance
4. Be careful with the gravel and sandy road, especially when you turn
5. Turning light on if going into the tunnel or when it is dark, foggy & rainy
6. Limit 40 km / hour in the city and 50 – 60 km/ hour in the countryside
7. Only fill petrol in big station, do not fill from locals with plastic bottle
8. Do not trust any rider on the road about where they go / turn next
9. You can be over charged if solve problem yourself
On this moment: 1 euro is 24.000 VND and 1 dollar is 23.000 VND
Repair flat tire 10,000 / 30,000
Relace new tire: 100.000 – 120.000
Replace Electric Stator 200.000 / 300.000
Oil change 90,000 – 120,000
Fix front and backlight 50.000
Stoplight switch 20.000
New bungeecords 20,000 – 40,000
New chain and sprockets 250,000
New Relaybox 20,000
Chain tightened up 10,000
New inner tube 80.000
Spark plug lead 50.000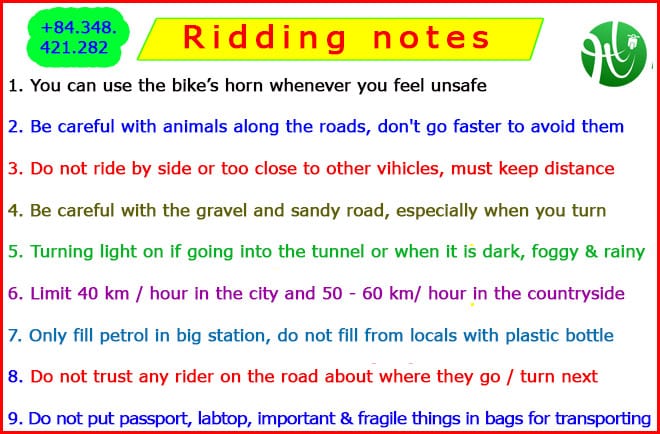 Recommend tours: