AN SUPERB DAY WITH HUE COOKING CLASS TOUR
For a long time, Hue has been celebrated as the paradise of cuisine and regarded as the most preferable destination for foreign visitors. Specifically, Hue incredible food stands out due to its perfect combination of the careful preparation, nice decoration, and tasty ingredients. Especially, thanks to Hue cooking class tour, tourists have the rewarding chance to observe, get the use tips, and make wonderful dishes by themselves.
HUE COOKING CLASS TOUR OVERVIEW
Attractions:  Dong Ba Market, Thien Mu Pagoda, Home cooking, craft families, Thuy Bieu village, Elephant temple and Ho Quyen Arena.
HUE MAGNIFICENT COOKING CLASS TOUR'S FASCINATION
In fact, this tour is perfectly suitable for whoever loving cuisine, eastern specialties in particular. Moreover, tourists have the gold opportunity to get a sense of royal.
Additionally, with the friendly and informative English guide as well as the accommodating chefs, travelers will have a great day in amazing Hue cooking class. They are able to learn how to cook and prepare a traditional Vietnamese meal, simultaneously, discover the diversity of spies of Hue foods.
Besides them, full day perfume river cruise to Thuy Bieu eco-village which is the pomelo land is the highlight of their trip.  Just imagine that passengers to sit in the boat, drawn them into the poetic views, enjoy the fragrance of herbs, visit local craft families and tasting the seasonal fruits, it is so wonderful. Surely, these are the unforgettable memories and they will love every minute of their cooking class trip.
HUE COOKING CLASS TOUR ITINERARY
8:30 Firstly, our tour guide will pick them up at their hotel followed by a friendly short ride to pay a visit to the most traditional Dong Ba Market. Upon arrival, tourist will be puzzled by marvelling at all the diverse ingredients and goods. Here, they meet the hospitable locals and communicate with vendors.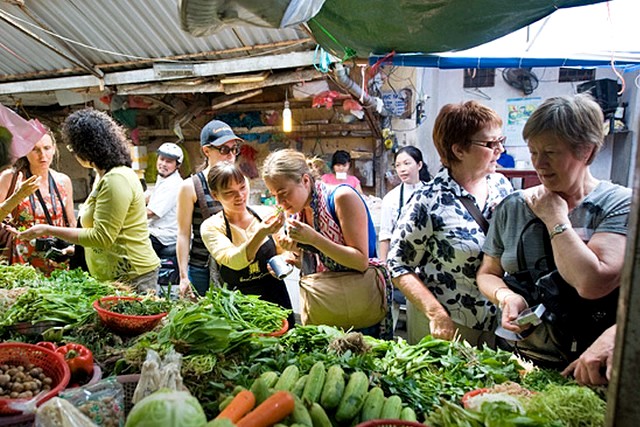 10:00 Right now, it's time for them to admire the fabulous romantic perfume river which is the miraculous gift for Hue city. After that, going to the oldest Thien Mu pagoda is the next activity. Probably, its beauty, history and the mysterious stories relating to the pagoda will attract tourists.
11:00 Travelers take exercise between the green paddy fields and pomelo gardens. Then we reach our desired destination- Ms. Loan's home stay for catching the sweet aromas of the fresh foods.
Next, it's the perfect occasion for them to roll up their sleeves and start the astonishing cooking class. The experienced chef will show them the way to prepare, cook and savor their own creation.
12:00 enjoying the local specialties and the result of their cooking class
These are the list of food that they have the chance to experience
Da Nem Cake- rice sheet
Steamed rice
Fig mix with shrimp and pork
Curry duck
Nam Cake- teamed shrimp rice cake
Fried rice cake
Morning glory with garlic
Desert with fruits
2:00 visiting the tradition craft families specializing in painting. Next, we come to Temple of Elephant ( Voi Re ) and Ho Quyen Arena which happens the fight between tigers and elephants to entertain the royal families and mandarins.
4:00  Finally, we drop them off their hotel and our Hue cooking class tour ends in the full of fun.
Price / Pax: 

TOUR INCLUDES
English speaking tour-guide
Lunch
Entrance tickets and all entrance fees
Boat and bike
Cooking class
Water
To make sure our trip complete, tourist can join in Hue food tour by night with Hidden Land Travel's motorbike. Furthermore, traveling by reasonable Hue private car is a remarkable activity with the high new engine.