TOP 5 TASTY HUE FOODS ON A BUDGET IN HUE
Exploring the variety of Hue foods with affordable prices is always an exciting journey. Hue cuisines is famous for not only the classy dishes but also the budget-friendly street foods. If you want to experience Hue like a local, these are the must-try dishes.
Banh Mi (Vietnamese sandwich) is the iconic dish of Hue foods.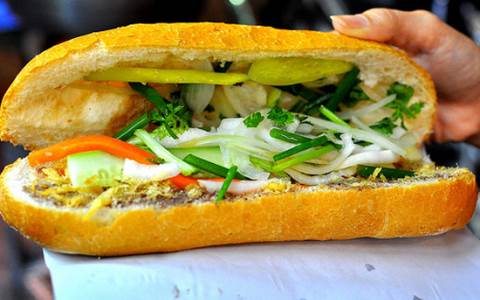 As the World's best sandwich, Banh mi would never disappointed you. You can create your own Banh mi by choosing the filling of your bread from various ingredients.
A typical banh mi in Hue includes bread, pate and ham with cucumbers, pickle carrots or papaya, and Vietnamese coriander. You can order Grilled pork Banh mi if you want something juicy and chewy. Just with one bite, your mouth will be full of the taste of the sauce and the pork. Furthermore, banh mi's texture is also amazing, the tenderness of pork combines with the crispiness of baguettes will take you to heaven.
Tourist can easily find a Banh mi stall anywhere on the street. But it is much better to book Hue food tours by night to enjoy the best Banh mi here.
2.Bun bo Hue ( Hue noodle with beef) is the most famous Hue foods.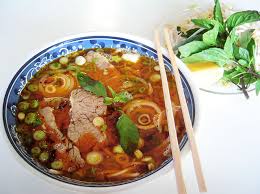 Bun Bo is one of the specialties of Hue, despite the ubiquitous noodle dish. In Hue, this dish is called simply "beef noodle". Other localities called "bun bo Hue" to indicate the origin of this dish. The main ingredients of the food are noodles, beef, pork, red broth and and lemongrass. Sometimes there are added noodle bowl of beef re, crab rolls, and other materials depending on the preferences of the cook.
3.

Bun thit nuong (Grilled pork noodle)
is famous for its delightful taste. A bowl of rice noodle and vegetables, topped up with grilled pork, peanuts and fried onions is perfect for your dinner. What makes this dish standout is the special sauce made from pork liver, peanut and sesame. You will be surprise by the rich flavor of this street food. It is easy to find this renowned dish in the crowded area such as Dong Ba Market or Truong Tien Bridge. Moreover, you can even learn to cook this dish in Hue cooking class.
4. Grilled corns and baked sweet potatoes are cheap and healthy Hue foods that you should never missed.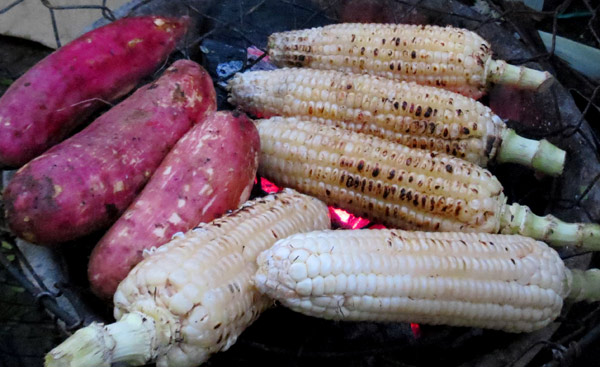 Corn is coated with chilly, salted butter, fish sauce and a few pieces of scallions then coal grilled. These spices enrich corn's flavor and create a unique kind of street food which is a must-try. Baked sweet potatoes are much simple without any other spices but still delicious. Tourist could try these Hue food when taking a stroll along the Perfume River .
5. Che Hue (Hue sweet soup) is the most popular dessert in Hue.
There are more than 50 types of sweet soup, from the royal style restaurants to the small street food stall. This Hue speciality is the top of Hue cuisine. In addition, this is also a low-cost dessert with its price range from 5.000 vnd to 10.000 vnd (less than $0.5). You can visit the best places to enjoy this sweet street food by using Hue private car or taking Hue food tour.