Tu Duc tomb
Tu Duc tomb is the resting place of the fourth King of Nguyen dynasty. He was born in 1829 and passed way in 1883.The Emperor have ruled country for the longest time, 36 years (1848-1883)
Like the previous emperors, Tu Duc started to built his own resting place when he still alive. In 1885 France began to invade Viet Nam, the tomb construction began in 1864 as a second Citadel in case of "sudden death" or the French took imperial city.
Normally, King of Nguyen dynasty passed way before their tomb completed. But Tu Duc still lived 16 years after the tomb'completion.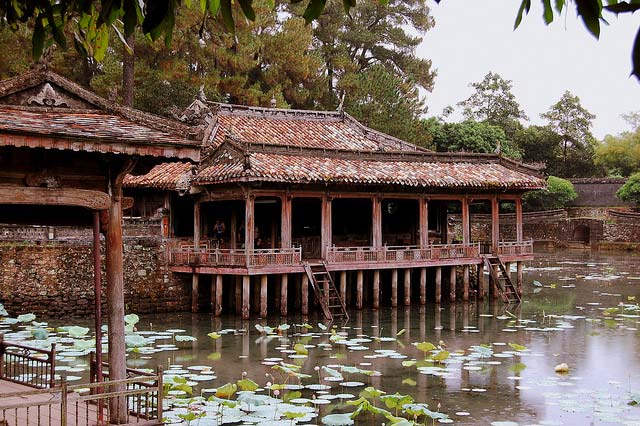 Location and Architecture of Tu Duc tomb
Tu Duc tomb (Khiem Cung) is considered as one of the most beautiful picturesque and largest works in royal monument complex.
Tu Duc mausoleum lies in a narrow valley, 10 km west of Hue city. The tomb is an architectural complex which covers 12 hectares of surface. Unlike other tombs, tomb of Tu Duc was divided into two separate areas.Temple and Burial area.
Temple Area of Tu Duc tomb
Xung Khiem and Du Khiem Pavilion where the Emperor used for to admiring flowers, composing poems and reading books.
Luu Khiem lake and Tinh Khiem island are artificial. The island was built spoil of luu khiem lake use for hunting and boating
Hoa Khiem palace is the most important place where King Tu Duc worked. Now it became his worshiping temple.
Minh khiem theatre is the oldest theatre of VN. Tu Duc was so crazy in Drama that he built a theater in his tomb to relax and worship drama ancestor.
Luong khiem palace was Tu Duc resting place when he alive. Now it was used to worship his mother.
Burial area
Stele house contains the biggest stone stele in Vietnam. It was inscribed with Khiem Cung narrative, composed by the Emperor himself, to acknowledge his merit and his mistakes cleverly.
Normally, the successor built the stele pavilion for his father. But Tu Duc built by himself as having no children.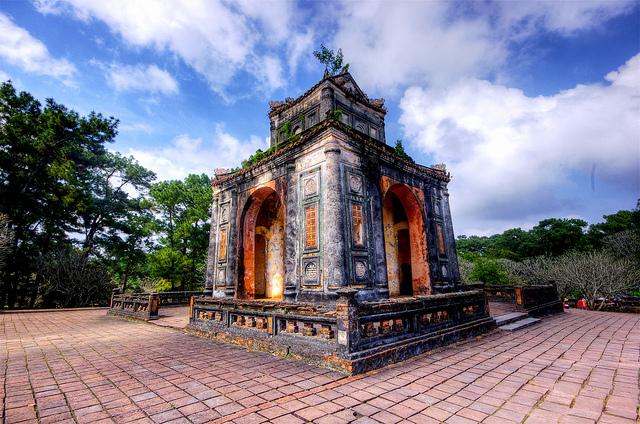 Where is the king's coffin of Tu Duc tomb?
With the conception that this life is temporary, next life is forever. So Tu Duc was berried with treasures such as golds and silvers.
To prevent the tombs from robbers, two hundred soldiers responded to built and bring the coffin to the tomb had to killed themselves and court or dynasty took care of their family. As a result, nobody knows where the tomb was.
With modern technology, people can easily detect the location king's body. But nobody dare to do. Because it will break the Feng Shun principle that people believed effects to the lives of more than 30 million Children of Nguyen dynasty nowaday.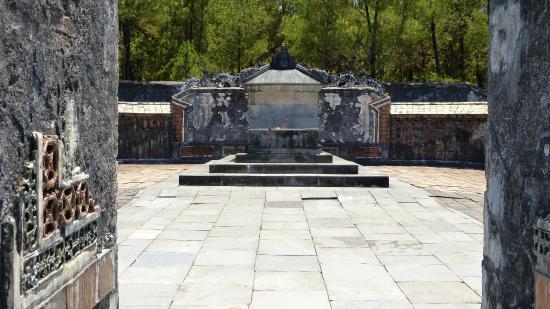 Why Tu Duc tomb are black
At first time, The tomb project was expected to finish in 6 years, but in the process of construction, two mandarins want complete the tomb in three years, so they forced 6000 soldiers to work exhaustedly and it caused a bloody Rebellion.
In the reign of Emperor Tu Duc, French colonialist dominated Viet Nam. With a backward feudal system, the king could not do anything except became their pupet.
Despite of having more than 100 concubines, Tu Duc has no children because of contracting smallpox when he was young. Unable to father a son is the biggest guilty at that time.
The country, having no children and causing a bloody rebellion make Tu Duc very sorrow. He renamed the tomb to Khiem cung (Modesty or humility) and repaint it black.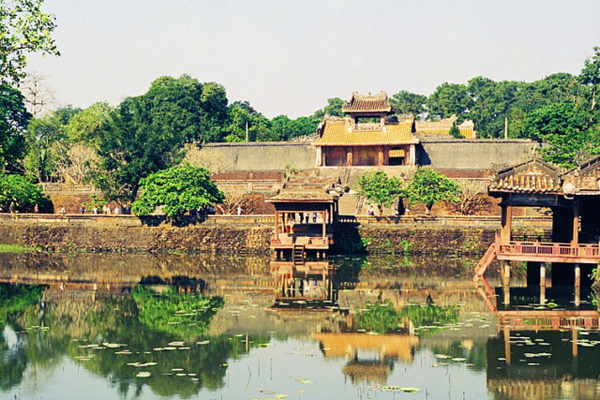 Useful informations
Tourist can easily visit Tu Duc Tomb by hiring a motorbike or private car
It is more convenient to book a Hue city tour.
Tu Duc Tomb entrance fees
Entrance price: 100.000 VND
Group ticket: 360.000 VND (includes: Citadel, Khai Dinh Tomb, Minh Mang tomb and Tu Duc tomb)