AN EXOTIC EXPERIENCE WITH HUE TO HOI AN BY PRIVATE CAR 
If tourists adore enjoying the gentle sun, have an appealing tan and be close to nature, the journey from Hue to Hoi An by private car is surely the best choice for them. Especially, this trip will help travelers save time, physical health and avoid the bore. Just sitting in our comfortable car with the well-equipped engine, they will be likely to experience a fun and eco-friendly environment trip.
Hue to Hoi An by private car overview
Length: 160 km
Attractions: Thanh Toan Bridge, Tu Hien Bridge, Elephant waterfall, Lang Co Beach, Hai Van Pass, Marble Mountain and Hoi An.
Honestly, improvements in engineering, styling and technology have made our Hidden Land Travel car a dream for long hauls. As a result, Hue to Hoi private car has been one of our pride-suffering service, which received many positive comments from tourists.
Apart from that, we work with the rule that always prioritizes the benefits and favors of TRAVELLERS. Therefore, our professional tour-guide and staff try our best to bring them the satisfaction.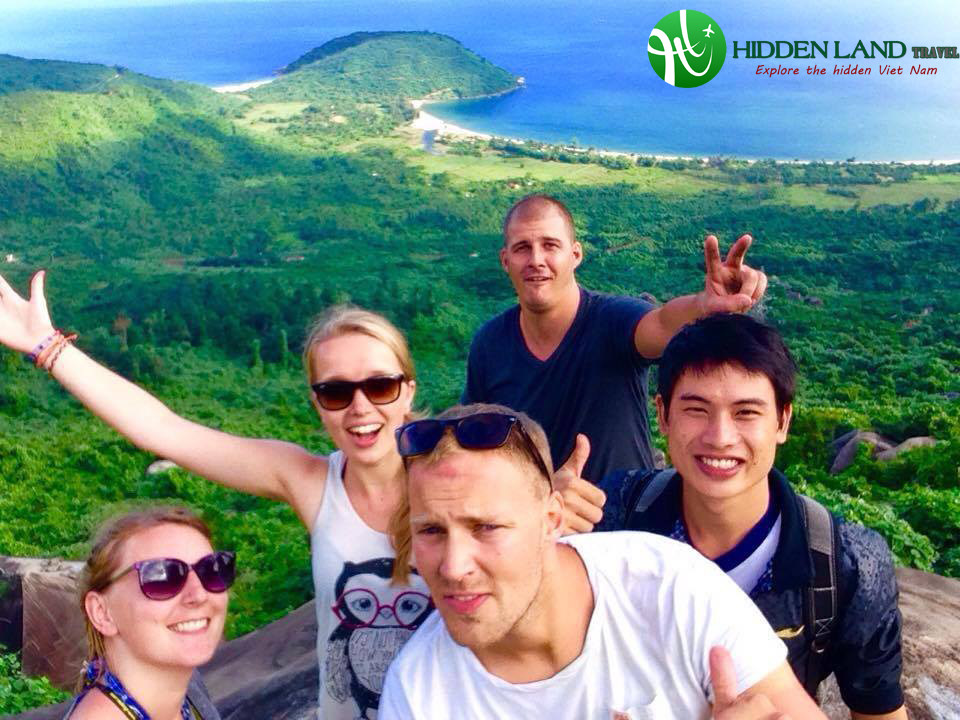 Hue to Hoi An by Private car roadmap
Thanh Toan peaceful Tile Bridge bringing them close to nature is the first destination. On coming to it, tourist can enjoy the fresh air, travel between the green paddy fields and have the chance to talk with the old locals.
After that, traveling about 20 km, tourists will reach Vinh Hien Estuary where amazing pictures on the mouth of the biggest lagoon in Southeast Asia.
Then, cool elephant spring where travels can enjoy the cool water is the next great site that they cannot miss. Noticeably on the hot weather, this natural pool below a tiny waterfall makes for a refreshing dip.  It would be so fantastic that tourists want to visit it again.
After spending 2-3 hours at Elephant spring, travels are approaching to Lang Co Beach. Eating the seafood, collecting the shell and taking a sun bath are the attracting actives.
And after for a while, Hai Van Pass- the most scenic hillside in Vietnam is the unique place for them to discover. Travels can experience all the emotional level. Besides it, Hai Van Pass is a desire to conquer by many drivers.
Next, Marble Mountain which is a group of five marble and limestone is the stop site. Finally, travels reach Hoi An.
With the clear and detailed plan, visitors will feel certain and do not be afraid of getting lost or miss any interesting destination of Hue to Hoi An by private car.
PRICES

INCLUDES
Insurance
English support 24/7
Advanced private car
English speaking driver basic
Free wifi and car petrol
Road tolls fees
Bottle of water
EXCLUDES
Personal expenses
Tour guide
Entrance fees
Meals
When reaching Hoi An, the travel can join in the amazing day Hoi An fishing tour to experience the full valuable trip.  They will try the activities like throwing nets, dragging nets, peddling basket boats and taste the local cuisine.  Addition to this, Farming and cooking tour at Tra Que Village is the great choice for tourist to know more the Vietnamese agriculture. Beside it, trip from Hue to Hoi An Motorbike – tour top gear tour is also a worth try.