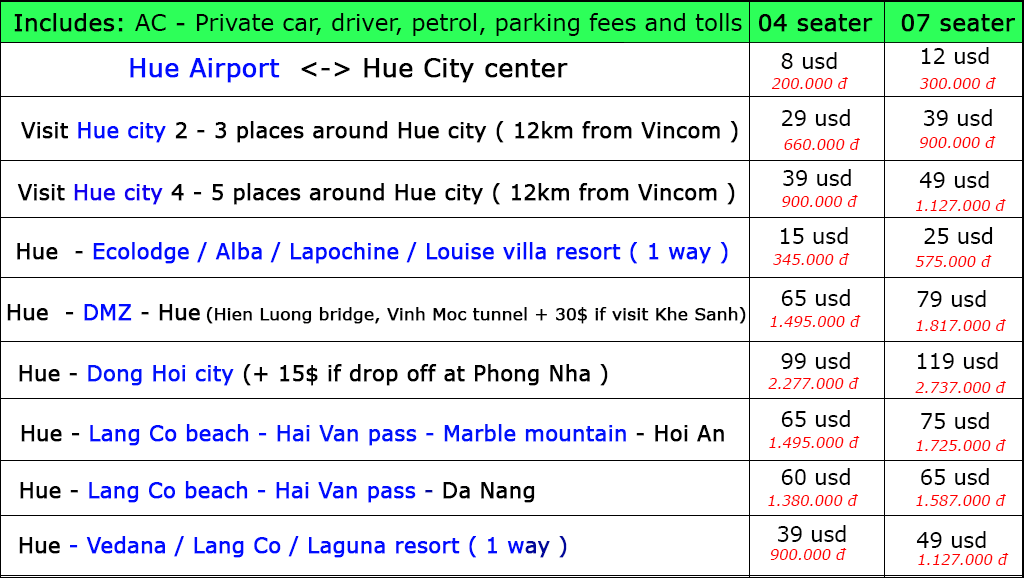 HUE HOI AN PRIVATE CAR 
Hue Hoi An private car day trip is a safe and convenient choice for those who do not like adventure. This is not only a perfect idea for hot, cold, and rainy days, but also Viet Nam traffic. With Hue Hoi An private car, you have chance to visit the most beautiful attractions such as Thanh Toan tile roof bridge, Tam Giang lagoon, Lang Co bay, Hai Van pass and marble mountain. Drivers of Hue Hoi An private car are always smile and willing to support you anytime. Moreover, They can speak basic English to exchange trip information, especially introduce you about landscape and offer you the best restaurants.
---
WHAT TO VISIT IN HUE HOI AN PRIVATE CAR
1. Thanh Toan, an ancient tiled roof bridge, lies in a ancient village  that near by a local market, rice field and a museum of agriculture. It is the best site for who are interested in knowing about an authentic farmer life.
2. You can swim at Elephant waterfall. The Springs is about 500m long including 2 different areas. Here, visitors can swim and soak in cool water or sat on the flat rocks and breathe fresh air, or listen to the sound of the water pouring, the wind flowing, the birds singing, or stroll among the green trees. In addition, the visitors can hang on to the roots of trees and swing yourself on it to find the thrills.
3. Having a rest at Lang co bay.  It is a charming beach with soft white sand, stretches of swaying palms, and a crystal-clear turquoise lagoon on one side together with long beachfront on the other. What adds it its picturesque beach view is the background of imposing green mountains with high passes. And thanks to its meeting point between the sea water and fresh water sources, it possesses abundance of delicious fish, shrimps, crabs and lobsters, which promise tourists a filling and savory meal of seafood.
4. The hightlight the trip is Hai Van pass, the most impressive pass in Viet Nam. You can stand on mossy bunkers to view the spectacular beauty of the mountains and ocean. In addition, you can easily recognize the difference between Da Nang and Hue in term of weather, economy and accent.
5.  Driving 9km south of Danang city center on the famous beachfront boulevard Truong Sa, travelers can find one of the most popular attractions of the region, the Marble mountains. It is a group of five marble and limestone mountains, named after the five elements of the ancient oriental philosophy: metal, wood, water, fire and
6. Cham Museum was constructed in the ancient Cham Pa architecture style with many blocks of white building decorated with simple and elegant patterns.After decades, the past influence of the ChamPa dynasty on Vietnam central regions is still prominent. From Da Nang, Quang Nam to Khanh Hoa, etc
7. My Son holy Land is a group of Cham towers, located in Duy Xuyen commune, Quang Nam province, 70 km to the South-West of Da Nang city. This is a group of Hindu architectural monuments com-prising 70 temples and towers built in around valley, 1.5 km in diameter, between the 7th and the 13th century.
---
HUE HOI AN PRIVATE CAR IMPORTANT INFORMATION
PRICE PER PRIVATE CAR