BAY MAU WATER COCONUT FOREST – THE MEKONG DELTA IN HOI AN
Warm-hearted, welcoming and traditional, Hoi An is one of the most popular destination of the tourists. It attracts not only by the architecture and ancient beauty but also the wonderful nature. Especially, someone said that no trip to Hoi An is complete without Bay Mau water coconut forest.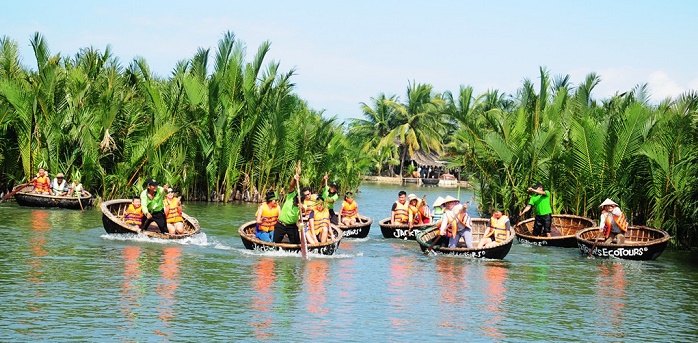 Bay Mau water coconut forest
Bay Mau water coconut forest location and history
In fact, the water coconut forest belongs to Cam Thanh commune, Hoi An. It is far from the beautiful Hoi An old town about 5 km in the east. Also, besides Da Nang monkey mountain motorbike tour, Bay Mau is one of the most wonderful tour to do in the central Viet Nam. In reality, the forest is famous for the wonderful coracle rowing experiences, thus attracting numerous tourists, especially foreigners. In the past, this water palm forest really became a safe haven, which conserved revolutionary forces and was a pedal for Vietnam's military, got a lot of glorious victories.
What to explore in Bay Mau water coconut forest
Arriving the forest, the travelers will have chance to explore the wetland ecosystem. Furthermore,the visitors can also learn about the daily life of Vietnamese fishermen, their families and their community. In fact, according to statistics, nowadays, there are more than 20 households involving in this work. Nothing is more interesting than joining local fisherman on the river and enjoying hands-on experience.
Especially, the tourists will know how to ride a basket boat. Rowing the boat through these small and beautiful channels, the tourists will come to inside of the water coconut forest. At here, the travelers can visit the coconut trees growing together and get some water coconut fruit.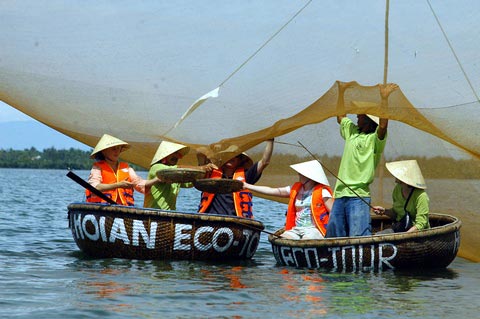 How to travel to Bay Mau water coconut forest
With the best recommend, a deluxe Hoi an fishing tour at Bay Mau coconut forest is always the top choice for the tourists.
The tour inclusion:
Transportation (Pick up & drop off)
English speaking tour guide
Fishing activities
Meal on boat with grilled sea food
01 can of local cold beer or soft drink per pax
Purified water and wet tissues
Conical hats
Tourist insurance

However, this tour just carries out for minimum 2 pax. Besides, the visitors can travel to here by romantic bicycle tour in Hoi An or adventurous Hoi An motorbike tour. These ways are also never bad choice with reasonable prices.