Da Nang Vietnam
Da Nang Vietnam is considered to be the most livable city of Viet Nam. It is the third biggest city in terms of urban population and one of the most important port cities, in addition to Ho Chi Minh City and Hai Phong.
Da Nang Vietnam lies on the coast of the Eastern Sea, at the mouth of the Han River. The city is the commercial and educational center of Central Vietnam. It is within 100 km of several UNESCO World Heritage Sites, including the Imperial City of Hue, the Old Town of Hoi An, and the My Son ruins.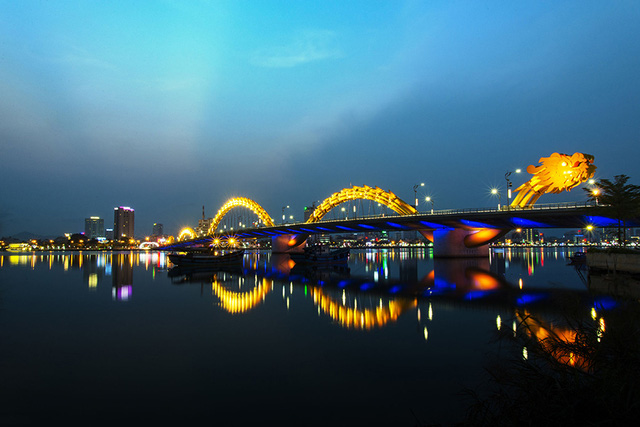 What to see in Da Nang Vietnam
Marble mountain is a group of five marble and limestone mountains. The mountains are home to many holy temples and caves. Huyen Khong cave was used as a hospital by the Viet Cong during the war. In addition, a stone craft village surrounding the mountain is also attracted thounsand tourists very month.
Monkey Mountain which lies in the breath-taking national park of Da Nang Vietnam stands 693 meters above sea level. A walk begins with Linh Ung pagoda which was built during the 18th century and houses a 67 metre-tall white statue of the Goddess of Mercy set on a lotus-shaped platform. It is hail as the tallest statue of the Deity in Southeast Asia.
Hai Van pass is one of the most scenic hillside roads in Vietnam. When traveling the steep winding roads of a paved mountain pass, Tourist will have a chance to discover peace, quiet and history along the way. The pass is also appeared in the BBC'top gear Vietnam, now it become of the breathtaking attraction for a motorbike adventure.
Da Nang Vietnam is also an attractive tourist city. It welcomes around 7 million visitors every year. With a Hue to hoi An by private car full day or motorbike you can easily visit all sightseeing in Da Nang
Will you come and visit this amazing city?