WHY HOI AN BANH MI IS THE WORLD'S BEST SANDWICH  
Banh mi is certainly the iconic sandwich of Vietnam.
In fact, you can enjoy Vietnamese banh mi anywhere  around the world. However, according to Anthony Bourdain, host of the famous show – No Reservation, Hoi An banh mi is the best. Right on the first episode shot in Hoi An Vietnam, Anthony and his former boss were so amazed by the sandwiches made in a small stand outside a market that he claimed this is the most delicious sandwich. And it was the start of the rising craze for banh mi in Hoi An. So what makes this sandwich become the best?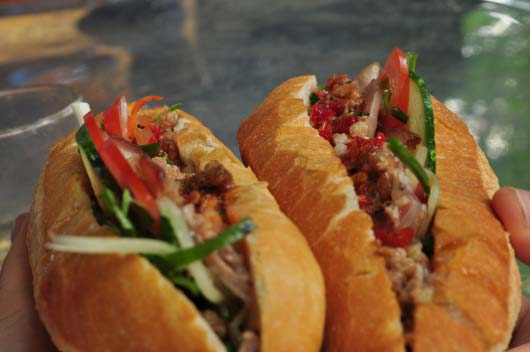 HOI AN BANH MI ORIGIN
As French colony, Vietnamese culture was partly influenced by French culture, especially on culinary. Banh mi is a great example of the remaining of French cuisine. It is the mini version of Baguette – the signature French bread. Like its origin, a plain of  banh mi is crusty on the outside but soft and fluffy inside. The difference of banh mi is its size, which is just only a third of the traditional baguette. Thanks to this size, banh mi become a renowned Vietnamese street food.
Likewise for Hoi An banh mi, it has the same shape and size like any other banh mi in Vietnam. Still, the high-quality ingredients are what make Hoi An plain bread extraordinary. By using the best flour, skillful bakers in Hoi An could create the tastiest mini baguettes in Vietnam. Moreover, Banh mi in Hoi An is unique for its thin outer crust and its extra-soft and fluffy crumb.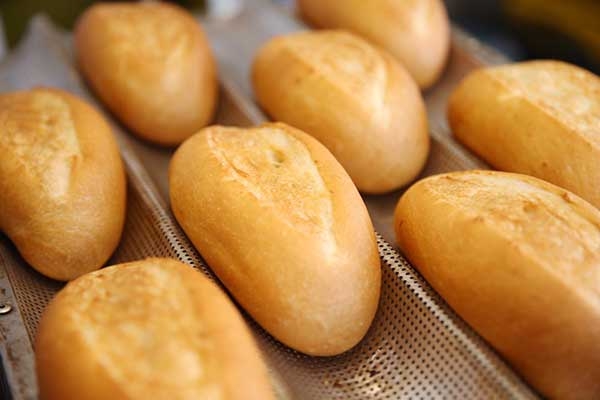 HOW TO MAKE HOI AN BANH MI
In terms of fillings, banh mi is the kind of sandwich which has the most choices. From grill pork, fried eggs to liver pate or Rousong (meat floss), they are all irresistible and appertizing. Furthermore, you can even mix some of them or even all of them together if you want. Just order a deluxe banh mi, you will have a special one with more filling than any other sandwiches.
In addition, the fresh vegetables go with it is also impressive. With a large portion of greens such as cucumber, pickles, some salad and herbs, you won't have to worry about your unbalance diet anymore. In fact, Hoi An banh mi could be the healthiest fast food which providing you almost all essential nutrients.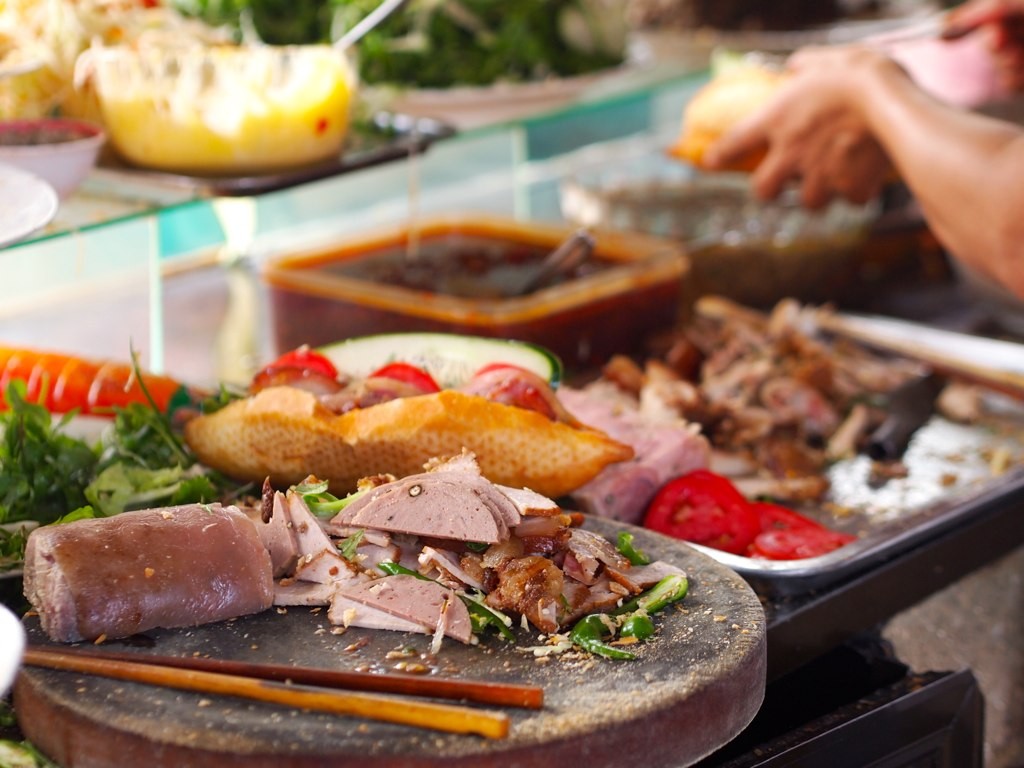 HOW TO ENJOY HOI AN BANH MI
Many people believe that the food will taste better with beautiful
scenery. That is why many luxury restaurant invest most of their budget in decoration. Nevertheless, now you can enjoy cheap fast food while watching a stunning view. As one of the most popular tourist destination, Hoi An is undoubtedly a beautiful town with historic architecture and peaceful nature view. There is nothing more relax than enjoying the best sandwich while watching the sun set by the river after taking a bicycle tour in Hoi An. Or, you could pack some Hoi An banh mi in your bag as a snack for a long journey.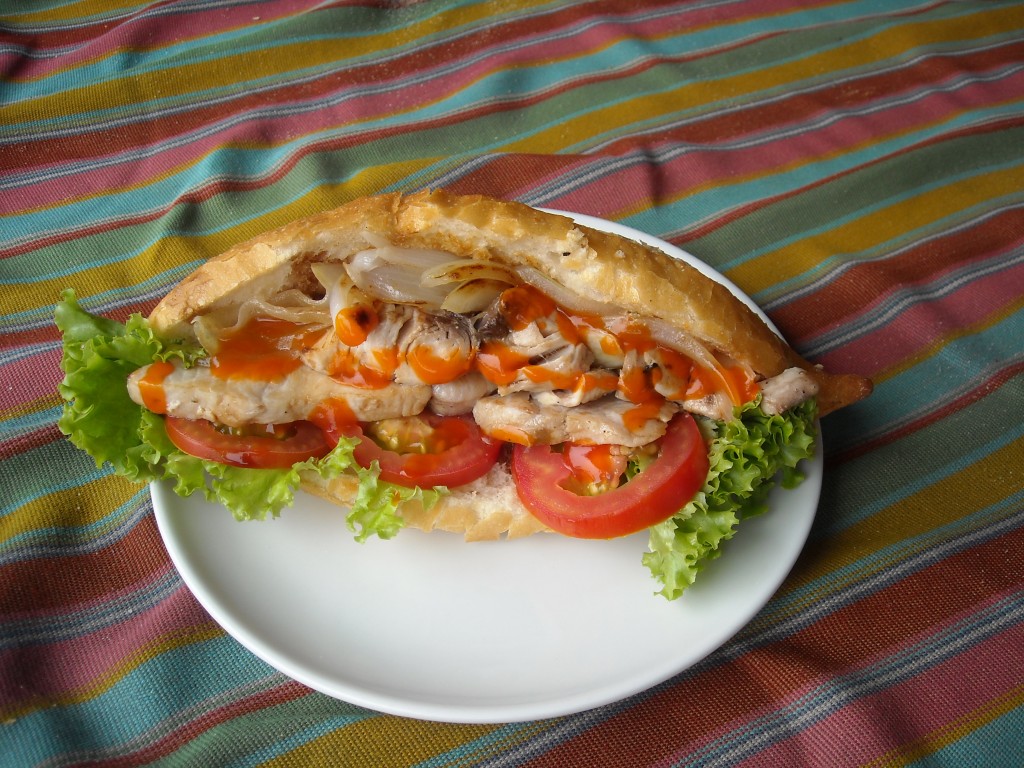 It would be wonderful to have a full meal on the top of the mountain. Maybe you could try that in the refreshing Hoi An Monkey Mountain and Marble Mountain motorbike tour. Want to know how the world's best sandwich tastes like? Come and try it out along with other Hoi An local food. It is only 130 km from Hue, another famous tourist destination. You can take Hue to Hoi An motorbike tour, it is sure a journey that is worth traveling for. For the best banh mi, visit Anthony Bourdain's recommended "Banh My Phuong" – 2B Phan Chau Trinh, Hoi An.