MY KHE BEACH – WORTHY A MUST SEE COASTAL DESTINATION IN VIET NAM
With a coastline of more than 3,000 km long stretching from the north to the south, Viet Nam is the heaven of beautiful beaches spreading. Among those, My Khe beach is one of the most stunning beaches attracts thousands of visitors every year.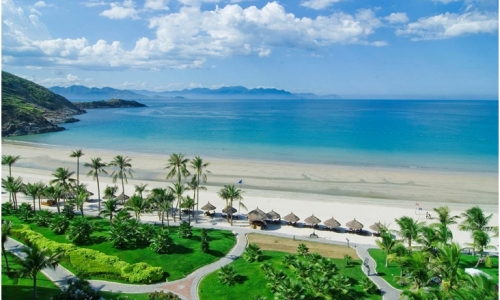 My Khe beach location
Located in the beautiful coastal city – Da Nang, My Khe is the common name of a coastline area. From the central of city, it just takes visitors for 5 km driving to get to the beach. And more than 25 km for ones who are driving by Hoi An private car. Obviously, an ideal plan for tourists to relax after a day exploring Da Nang – Hoi An landscapes.
My Khe beach – Beautiful and available beach
Waking up early in the morning, watching seagulls gliding over the water surface and waiting for the sunset. My Khe gives visitors a real experience which normally is found in romantic love films. Indeed, the beach doesn't let tourists down in terms of the beauty. My Khe Beach is famous for smooth white sand, gentle waves, warm water and beautiful coconut trees surrounding. Furthermore, because of the shallow seashore, safely for both adults and children to swim and watch the majestic Marble Mountain.
In addition, My Khe beach is not only famous for the beauty but also the valuable resources in aspects. The plentiful underwater is flora and fauna. Especially, algae species like duckweed algae with high export value bringing Vietnamese products to the world.
Moreover, within recent years, My Khe has been attracting tourists for the various kinds of tourism services such as fishing, windsurfing, diving and yachting. Over the sand sites, travelers can enjoy the time playing football, volleyball or lying for a while under the beautiful sunshine. In fact, the beach is a perfect destination and entertaining center for tourists to enjoy interesting experiences.
The My Khe beach's recognition
Voted as "One of the most attractive beaches on the planet" by Forbes Magazine and commended as one of 10 most popular beaches in Asia by The Sunday Herald Sun of Australia. My Khe is truly a pride besdie Da Nang monkey mountain which brings the fame not only Da Nang but also Viet Nam name to the world. In fact, thousand of visitors get here wishing to come back because of the undeniable beauty.
How to get to My Khe beach?
My Khe is not far away from Da Nang central so it would be so easy for you to get there. The most popular way is by Top gear Hue to Hoi An motorbike tour so that tourists can enjoy the other landscapes easily. Otherwise, if the tourists are in Hue, top gear Hue to Hoi An private car tours is never a bad choice to enjoy My Khe, the must-see coastal destination in Viet Nam.