HUE MOTORBIKE RENTAL 
The best way to explore Vietnam is by motorbike. With a motorcycle of Hue motorbike rental, you can choose any routes, visit any hidden landscapes and relax anytime you like. What can be greater than the adventurous feeling on a top gear motorbike via rural, coastal and mountainous roads to explore the best hidden landscapes.
Why you should choose Hue motorbike rental ?
Safe and well-maintained motorbikes.

Transfer the bag to next destination

Sign in the detailed contract before getting the scooters
Get a clear maps with instructions and recommendations
Support in English 24/7 in any cases. 
Leave bike without transfer motorbikes back fee
110 CC MOTORBIKES
Semi-automatic, Automatic 110cc and Win 110cc are the three most popular bikes for an unforgettable adventure. In spite of lowest cost, 110cc bikes are strong enough for any routes in Vietnam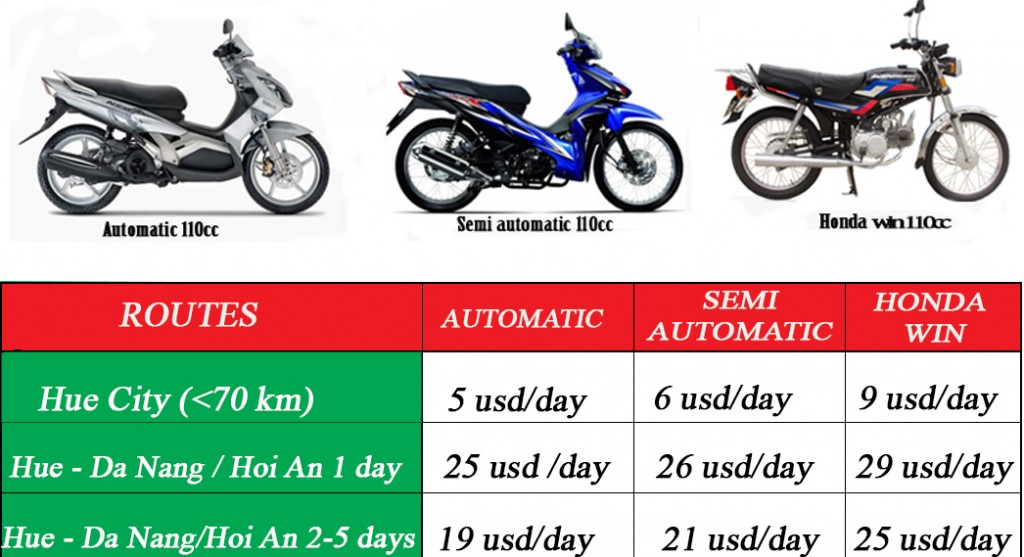 YAMAHA NOVOU LX 135 CC
Automatic Yamaha novou 135cc  is the most stable motorbike for those who love to explore nature and local lives safely. This is not only easy to drive, but also very powerful in any roads. Moreover, you will have an amazing trip with extremely reasonable prices when choose this bike.

HONDA MASTER 125 CC
Honda 125cc Master is an ideal choice for a safe authentic adventure. Although the price is not too expensive, this bike is powerful for any mountainous roads and fit for every people.

YAMAHA XTZ 125 cc
Yamaha XTZ are the perfect motorbikes for every type of roads, size of people and purposes of travel. You will have an owesome trip time in Viet Nam when select these bikes to accompany.