Note: It only cost 6 usd or 130.000 vnd / automatic or Semiautomatic scooter if you only hire and ride around Hue city. 
HUE MOTORBIKE RENTAL 
The best way to explore Vietnam is by motorbike. With a motorcycle from Hue motorbike rental, you can choose any routes, visit any hidden landscapes and relax anytime you like. What can be greater than the adventurous feeling on a top gear motorbike via rural, coastal and mountainous roads to explore the best hidden landscapes?
HUE MOTORBIKES PRICE LIST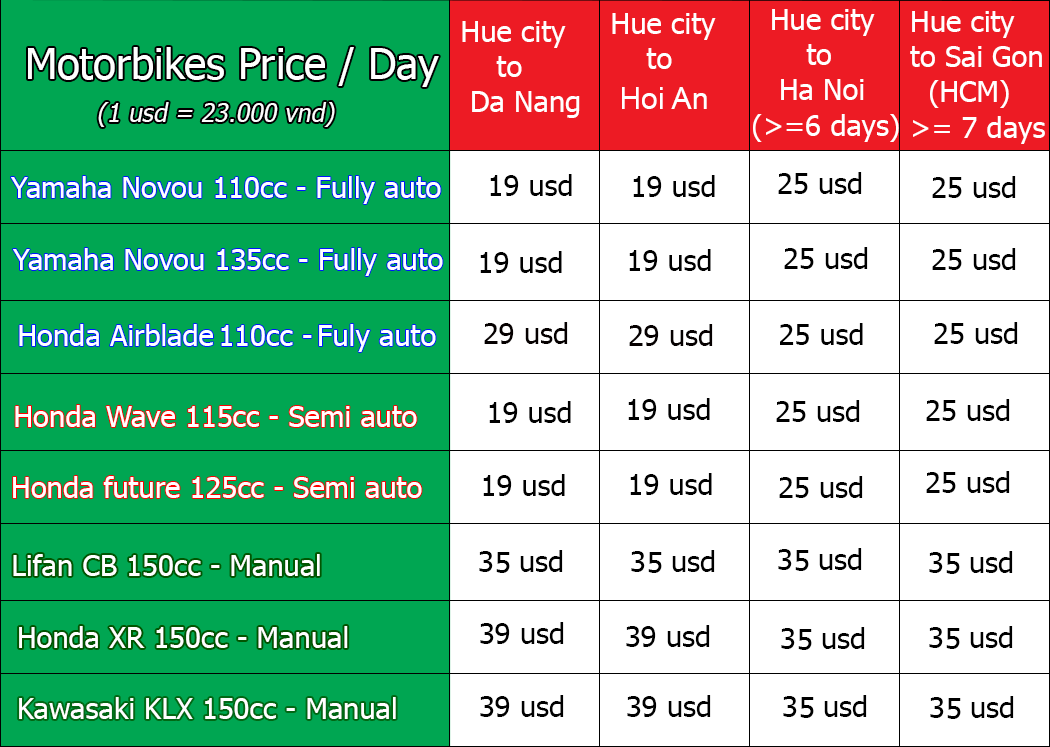 WHAT IS INCLUDES AND EXCLUDES?
MOTORBIKES TYPES INFORMATION
THINGS TO NOTE WHEN DOING HUE MOTORBIKE RENAL
NORMAL COST FOR A HUE MOTORBIKE RENTAL
INCLUDES:
Good condition motorbikes, hemets and side racks
Delivering motorbikes to your hotel.
Free sending luggages to the next destination.
Leaving the motorbikes at almost parts of Vietnam
Good condition motorbike and helmets.
Having detailed contract and instruction in English
EXCLUDES:
Petrol
Meals
Accommodation
DEPOSIT:
Luggages
Or 01 ID card + copy of passport
or 01 Passport for all bikes
or 100 to 500 usd  (Depend on the bike)
Semi-automatic, Automatic 110cc are the two most popular bikes for an unforgettable adventure.  110cc bikes are strong enough for any routes in Vietnam and are low cost.
Automatic Yamaha novou 135cc  are the most stable motorbike for those who love to explore nature and local lives safely. This bike is not only easy to drive, but also very powerful in any roads. Moreover, you will have an amazing trip with an extremely reasonable price when choosing this bike.
Yamaha XTZ, Honda XR and kawasaki is an ideal choice for an adventure in safety. The price is not too expensive,and is powerful enoughfor any mountainous road and fit for every people.  They are the perfect motorbikes for every type of road, size of person and travel purpose. You will have an awesome time in Viet Nam on these bikes.
Before and after the journey, you have to ensure that all parts of your motorbike are in normal operating conditions such as brakes, tires, chainsaws, lights, horns, turn signal and speedometer.
Remember to fill up the petrol for the Hue motorbike rental.
You don't need to worry about he type of gasoline to use because the petrol station staff will automatically fill the suitable one for the motorbike.
Bring sunglasses, sunscreen, waterproof backpacks, coats, raincoats, locks, rubber bands, full battery 3G smartphone, some motorbike repairing tools and most importantly money .
Remember to wear helmet, drive on the right side and limited speed of 60 km/ h.
Do not cross the red traffic light, using horns anytime you need, drive with two hands, do not take photos when driving, turn on lights when getting inside tunnels.
Do not drink alcohol before and during the drive.
Be confident with traffic in Viet Nam. Try to guess other's turning direction by their body language.
Drive slowly in order to look out for animals, children, old people, alcoholics, drugs, off-size vehicles.
Keep a safe distance of big trucks when getting uphills or climbing mountain passes.
When police stop you, the easiest way to escape is "TIP" them 10 – 20 usd and then go
On this moment: 1 euro is 24.000 VND and 1 dollar is 22.000 VND
Repair flat tire 10,000 / 30,000
Relace new tire: 80.000 – 120.000
Replace Electric Stator 200.000 / 300.000
Oil change 90,000 – 120,000
Fix front and backlight 50.000
Stoplight switch 20.000
New bungeecords 20,000 – 40,000
New chain and sprockets 250,000
New Relaybox 20,000
Chain tightened up 10,000
New inner tube 80.000
Spark plug lead 50.000

Recommend tours: