TAN KY OLD HOUSE – THE ATTENTION FOOT STOP IN HOI AN
Hoi An– the paradise of colorful lantern having been one of the awesome destinations that tourist cannot miss. It's the perfect harmony between the east- west constructions; ancientness and uniqueness make Hoi An popular. Among them, Tan Ky old house has a great deal of contribution on its fame. Located at 101 Nguyen Thai Hoc with more than 200-year-old, it is the first house certificated as of Hoi An's national heritage and only historic house visited by national and international leaders.
Why Tan Ky old house is so special
This typical example of 18th merchant's residence brings the impression to visitors with its significant name, which means "progress shop"- expressing the owner's wish for a wealthy business.
Regardless of the destruction of time and annual foods, many generations have made great effort to keep the house in good condition. As a result, it is not the oldest; however, it is the most well-preserved in Hoi An.
Moreover, wood is the main component which was used to construct the house. Apart from wood, builders also use the stones which originate from Thanh Hoa. In fact, it was this kind of stone that helps the wood architecture system in Tan Ky be intact until now. Furthermore, thanks to Bat Trang's floor brick, people always feel cool in summer and warm in winter.
Besides, Tan Ky Old House is the recipe of success and the result of both skilled and clever craftsmen from well-known carpentering Kim Bong village. As far as detail and structure, they manifest the special meaning as well as oriental message.
What we can discover in Tan Ky old house
The oldness together with the distinctiveness makes Tan Ky popular with every traveler. When tourists get close observation. They might be likely to recognize it is the perfect combination of Chinese, Japanese and Vietnamese style.
An example of this is that the triple-beam structure-the symbol of heaven, earth and human or five round blocks represent to five basic natural elements in Eastern philosophy. The harmony of the house shows the dream of human beings and nature coordination.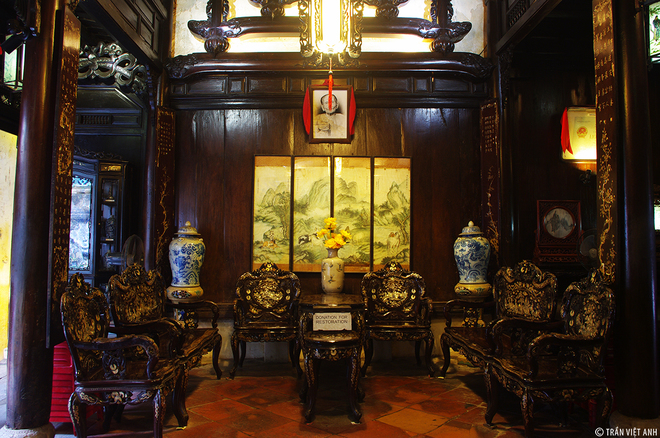 Normally, with the time and war, everything can be affected to a greater or less degree, nonetheless, many details of Tan Ky having remained. The outside structure made of bricks, titles, for instance, storage area, floor covered with Bat Trang bricks seem intact to this day.
It is noting that Tan Ky has many parts with each own distinctive function. Specifically, the courtyard provides ventilation, and brings a glimpse of nature and contains rainwater. The carved wooden balcony supports the courtyard.
Coming here, passengers stand the chance to enjoy Khong Tu's cup with plain decoration. However, it gives an impression of the philosophy, which advice us to be satisfied with what we have. Do not be greedy.
Tourists find it hard or even impossible to find the window here. While stepping into the house, they do not feel uncomfortable thanks to the construction called "Gieng Troi"
Especially, until now, the house has contained a great deal of parallel sentences with the humanity meaning.
How we can get to Tan Ky Old House
Fortunately, it is near Japanese Bridge, so with the helpfulness and hospitability of our informative tour-guide, travelers are able to walk down Binh Duong Street to Nguyen Thai Hoc Street. Moreover, they can join in cheapest Hue to Hoi An private car tour or use the reliable bicycle tour in Hoi An.
Additionally, to help tourist enjoy the most interesting and valuable of their trip, a Hoi An cousin tour with the renowned foods like Cao Lau or Hoi An chicken rice is a worth try. Or if travelers wish enjoy the rustic life, they can take part in Tra Que village.
We wish all the best wishes for our tourists. Welcome you to our beautiful country!