Thien Mu Pagoda   
Hue city is the ancient capital of Vietnam which converge a lot of beautiful landscapes and religious pagodas. Among them, Thien Mu pagoda  in Hue is always the top attraction to visit by its location, history and architecture.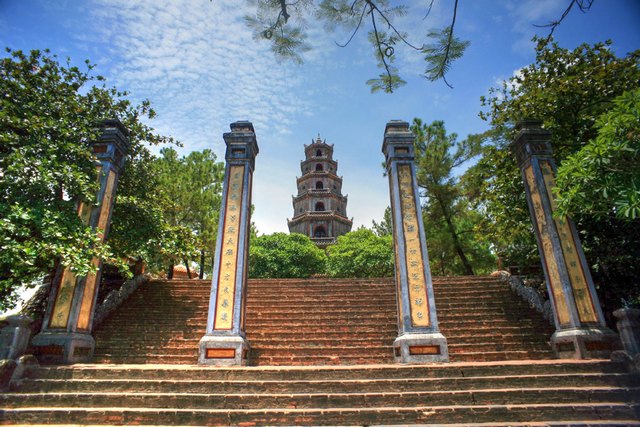 Where it is? And why it is called Thien Mu pagoda?
Thien Mu pagoda lies at the end of Kim Long Road, in Huong Long Ward, on the northern bank of the Perfume River. According to local people, every night, there has one elder with red clothes appearing on the hill, she said that "One person will establish pagoda here to converge necessary factors to strengthen the country". When Nguyen Hoang, a lord in the North, heard the legend, he decided to build a pagoda and named it Thien Mu (Lady from Heaven).
What to see in Thien Mu Pagoda?
The building tourists first see when visit this pagoda is Phuoc Duyen tower. It is of octagonal shape and has seven stories, each of which is dedicated to a different Buddha. The tower looks over the Perfume River, has become the unofficial symbol of the city.
Nearby the tower, there are 2 little quadrilateral buildings. It records the architectural history of the tower, as well as excellent poems composed by the fourth king, Thieu Tri. Besides, the pagoda also has a statue of a giant marble turtle carrying a big stele. In the backyard of the pagoda is a stupa which has been erected in honour of Thich Don Hau. He is the abbot of the pagoda in the 20th century.
The entrance leads directly to Dai Hung pagoda (the hero is the Buddha, he has the power to tame all the evils). This is the main construction of the pagoda where the Buddha and several buddha are worshiped. Furthermore, the pagoda also houses the Austin car that Thich Quang Du drove to a busy crossroads in Sai Gon and performed his self-immolation in 1963 against the Diem regime.
How to get there?
Thien Mu pagoda is about 5km from Hue city center, thus travelers can easily get there by motorbike, bicycle, Hue private car as well as boat. Especially, there is no entrance ticket for the pagoda so it is cheap to take a city tour.
Why don't you come here and enjoy the breathtaking view of the most popular pagoda in Vietnam?