HUE PRIVATE CARS PRICE LIST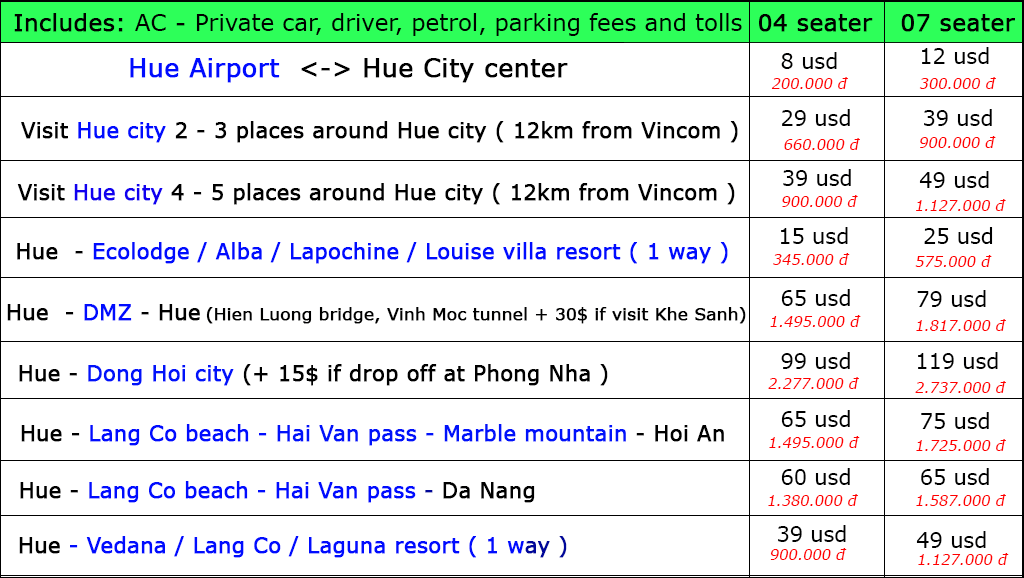 WHAT CAN YOU VISIT  WITH HUE PRIVATE CARS?
THE POPULAR ROYAL MONUMENTS: 
Hue was the capital of Viet Nam. This place has been famous for the royal monuments, with Hue private cars you can visit places such as:
1.  Royal Hue citadel
Famously being one of Vietnam's seven UNESCO World Heritage Sites, the Imperial City of Hue has long been a must-see attraction for tourists visiting a hidden charm of Vietnam
2. Thien Mu temple,
The Pagoda of the Celestial Lady (Vietnamese: Chùa Thiên Mụ; also called Linh Mụ Pagoda) is a historic temple in the city of Huế in Vietnam. Its iconic seven-storey pagoda is regarded as the unofficial symbol of the city, and the temple has often been the subject of folk rhymes and ca dao about Huế
3.  Tu Hieu pagoda
Tu Hieu is the largest and most beautifully landscaped pagoda nestled on a luxuriant pine hill. Its origin dates from 1843, when the Great monk Nhat Dinh came to Mount Dong Xuan to cure his mother and founded the pagoda as a place to meditate.
4.  Khai Dinh tomb
In order to complete the tomb, the rulers had to raise national tax to 30%. By then Vietnam sovereignty was lost to French invaders and Western culture was prevailing all over the country. Consequently Khai Dinh tomb is the result of the intermingling of Oriental and Occidental, Roman and Gothic style, Hindu and Buddhist style, as well as ancient and modern features. It's also known as Ung Lang
5. Tu Duc tomb
Located in a narrow valley in Duong Xuan Thuong Village, 8km from Hue City, Tu Duc Tomb is considered as one of the most beautiful and picturesque and largest works of architecture of Nguyen Dynasty's royal palaces and tombs. People say that Tu Duc Tomb is a must in every tour to Hue City.
6. Minh Mang tomb
The tomb was started constructing in 1840 under the order of King Minh Mang. After his death in 1841, King Thieu Tri continued the task, according to his father's plan. The monument was finally completed 2 years later.
7. Perfume river cruise
Among the poetic landscapes and historic site, Hue perfume River  is considered as the soul and the priceless gift of Hue city. Especially, Perfume river cruise is an activity that brings a great deal of wonderful feeling for tourists that they cannot miss out.
CRAFT VILLAGES:
Also, Hue has alot of famous traditional craft villages where you can have a hand-on experience and get some lovely souvenirs there with local craftman. Some famous villages to visit with Hue private cars are: Like
Paper flower making villages.

Wood painting village

Incense & conical craft village
---
HUE PRIVATE CARS IMPORTANT INFORMATION
PRICE PER PRIVATE CAR