HUE TO DMZ BY PRIVATE CAR PRICE LIST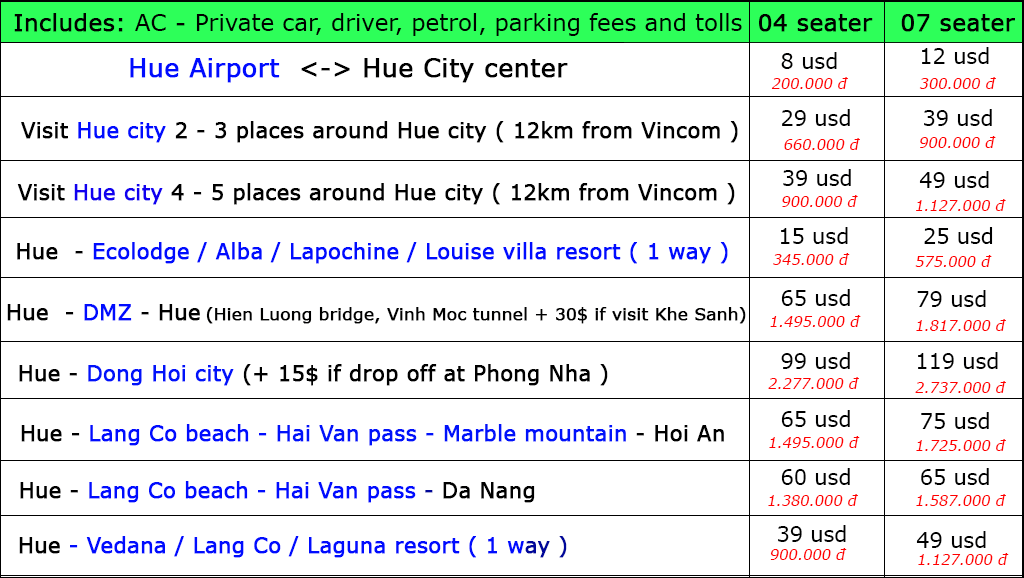 HUE TO DMZ BY PRIVATE CAR 
Demilitarized zone (DMZ) is an ideal evidence to study about the war history. DMZ, dividing line between North and South Vietnam during American war. This is the fiercest battlefield where one person had to suffer around 7 tons of bombs. Almost houses were fired, and thousand of people had to live underground or leave their homes. Hue to DMZ by private car will bring you on quite and rural road to give you the most authentic value
2.Hien Luong Bridge – Ben Hai River.
Here is the best painful symbol of the national division. According to the Geneva agreement in 1954, Viet Nam was divided into two parts. Vietnamese soldiers moved to the north and French and its follower had to move to the south take the parallel 17t as a temporary boundary for two years until the general election. However, American broke the agreement and separate Viet Nam for 12 years. Nowadays, you can easily imagine about the color, flag, loudspeaker as well as artillery through the museum, two-color Bridge, flag tower, loudspeaker and conjunction house.
2. Vinh Moc tunnel
The highlight for the trip HUE TO DMZ by private car is Vinh Moc tunnel was not only used for hiding bombs but also for schooling, cooking, treating, relaxing and political discussion. During the war, there are 17 babies was born underground
3. Ta Con Airbas

e
Ta Con Airport is about 5 km away from Khe Sanh town, about 20km southwest of Lao Bao border gate and about 65km northeast of Dong Ha city. This base was associated with many accomplishments during the 1968 Khe Sanh liberation campaign and is attributed to the sarcastic quote of US Defense Secretary James R. Schlesinger: "Although we have thrown American honor To keep (Khe Sanh) and force the Joint Chiefs of Staff pledged to blood, but eventually to retreat".
---
HUE DMZ BY PRIVATE CAR IMPORTANT INFORMATION
PRICE PER PRIVATE CAR