5 BEST HOI AN STREET FOOD
Hoi An is one of the attracting tourists destination in Viet Nam. The visitors can be impressed not only by the ancient appearance, the western-eastern combination structure lantern blossom but also by the stream of Hoi An street food as well. Therefore, trying all local street food is a must-do activity in Hoi An.
Cao Lau of Hoi An street food
There is no doubt that Cao Lau is the leading source of Hoi An street food since it is the number one food in the old town. In reality, the way to produce its noodle is very special as the rice must be soaked with the ashes of woods from Cham Island, and water from Ba Le Well. Moreover, the noodle should be boiled many times to have the attracting slightly yellow combined with the toughness. Besides it, white bean sprout, slices of juicy pork and crispy croutons are another main filling of this fabulous food.
Where to eat:
Trung Bac Cao Lau: Map 87 Tran Phu street, Hoi An
Thanh Cao lau: Map 26 Thai Phien, Hoi An
2. My Quang (Quang noodle)
It is recognized with its thin and flat rice noodles glazed with a mixture of peanut oil tried with onion and yellow broth. Moreover, its main ingredient is chicken, fish, squid, frogs and eggs which enhance its flavors. In fact, Hai stall at
Where to eat:
Ong Hai Quang noogle Map: 6A Truong Minh Luong 
Vy's Market Map: 03 Nguyen Hoang street, Hoi An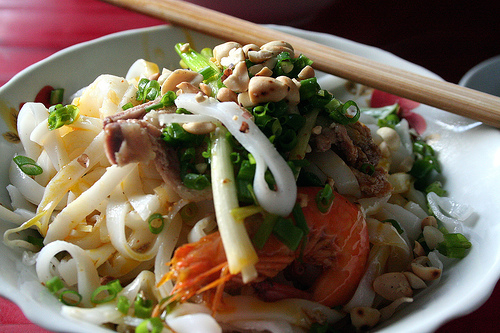 3. Hoi An chicken rice
Hoi An people have their own way to make chicken unforgettable with customer and it surely can help travelers cure their hunger. In fact, this marvelous of Hoi An street food is especially delicious with rice cooked as well as turmeric served with shredded chicken. Furthermore, it is town into small pieces and then the cook mixes it with spicy chili sauce, pepper and decorates with mint leave, papaya and salted onions, tomatoes and bunches of lettuce.
Where to eat: Ba Buoi chicken rice: 22 Phan Chau Trinh street, Hoi an
4. White rose
white rose is filled with ground shrimp, garlic, spring onion, lemon grass and spices, whereas white rose has minced pork, mushrooms. The dish is served with a dipping sauce made from shrimp broth.
Where to eat: White rose restaurant: Map 533 Hai Ba Trung street, Hoi An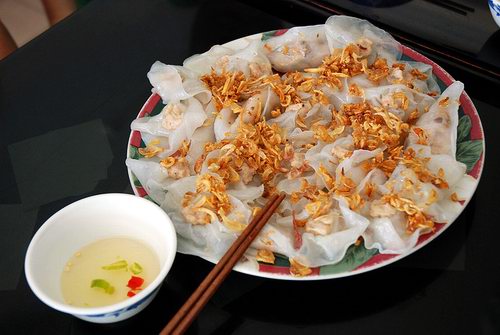 5. Hoi An Seafoods
Hoi An has been famous for seafoods such as shrimp, crap, squid, Oyster and fish. All the seafoods is fresh as it bought in the same day.
Where to eat: A Roi restaurant: Map Cua Dai, Hoi An