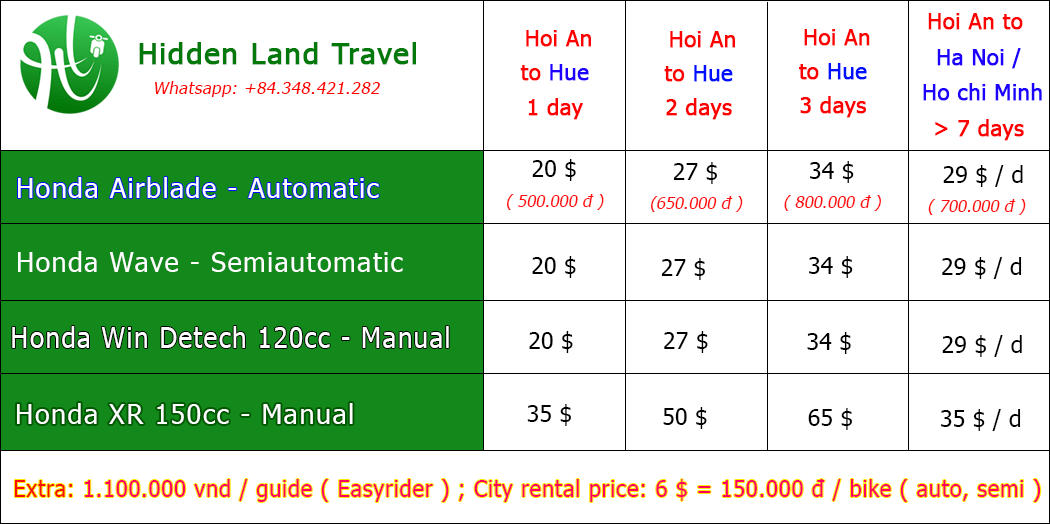 Hoi An to Sai Gon motorbike rental price list
Da Nang or Hoi An to Sai Gon motorbike rental includes:
INCLUDES:
Good condition motorbikes, hemets and side racks
Delivering motorbikes to your hotel.
Free sending luggages to the next destination.
Leaving the motorbikes at almost parts of Vietnam
Good condition motorbike and helmets.
Having detailed contract and instruction in English
EXCLUDES:
Petrol
Meals
Accommodation
DEPOSIT:
Luggages
Or 100 to 500 usd  (Depend on the bike)
Da Nang or Hoi An to Sai Gon motorbike rental
You can select your options in the booking form below
or
Please provide us the information via Email: Hiddenlandtravel@gmail.com Whatsapp +84348421282
Your name
Type of bike
Number of bike
Number of helmet
Pick up time
Pick up address
Number of luggage you want to be transfered
Hidden Land Travel will confirm the total price and your reservation
We will deliver the bike to your place and accessories as agreed
Both parties will read and sign in Da Nang or Hoi An to Sai Gon motorbike rental hiring contract
You will pay the renting fee for our staff and give staff deposit (luggages or 1 Passport or 300 usd/bike)
We will take and send the luggage to next destination (if you request)
Contact us when you want to return the bike 30 minutes in advance, Our staff will come to your place to collect the bike and return your deposit.