RU CHA – GREAT PRIMEVAL MANGROVE FOREST TO HUNT AMAZING PHOTOS
Ru Cha is the primeval mangrove forest which was recognized diversified ecosystem, possesses the mysterious beauty and charm on bank of the largest lagoon in Southeast Asia. It is truly a great destination for travelers who love exploring and hunting for amazing photos.
Ru Cha's location
The primeval mangrove forest is about 15km from the center of Hue city. Following National Road 49 to Thuan An Beach, turn left to Tam Giang bridge, travelers can get the mangroves forest. It belongs to Thuan Hoa village with an area of about 5 hectares, existing more than 100 years ago. With the unique beauty, it becomes must-visit place of tourists when coming Hue.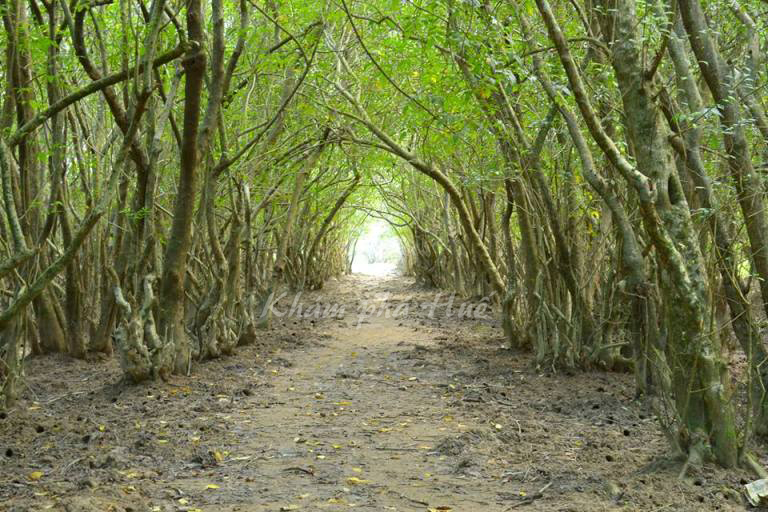 Why Ru Cha is must-visit place in Hue
Ru Cha is a tiny islet on the Tam Giang Lagoon. The travelers who came here are always surprised by the interesting and unique natural landscape which remains pristine, ideal for birds, white heron shelter. Besides, the hidden roads are also enough charming to keep visitors' foot. Especially, at here, the tourists enjoy the cool atmosphere and hunt the amazing photos. Furthermore, the tourists will get new experience such as learning fisherman's life, enjoy at local food, boat trip on Tam Giang Lagoon and exploring Hue countryside.
Explore a newly discovered region of Hue
The great place to see scenery in the dawn and sunset
The wonderful destination to hunt the amazing photos
Try your hand at catching a fish
The best place to enjoy the cool atmosphere of Hue countryside
The best way to visit Ru Cha primeval mangrove forest
Along with Tam Giang lagoon and the traditional craft villages, the best way to explore Ru Cha is downstream Perfume River tour by motorbike and dragon boat. It will take the travelers down the romantic river to explore the hidden destinations of Hue with reasonable price. Especially fishing with local and taste the specialties on Chuon lagoon.
TOUR INCLUDES:
Motorbike Bikes.
Entrance fees
Double dragon boat.
English speaking tour guide
TOUR EXCLUDES:
Meals
Personal expenses
Besides, a cheapest Hue motorbike rental is also the top choice for the visitors who love experience by themselves. Another option, a deluxe Hue private cars to enjoy the primeval mangrove forest is also never a bad idea. Let go to enjoy a wonderful trip and get the great photos.